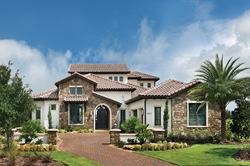 Clearwater, FL (PRWEB) December 17, 2014
Arthur Rutenberg Homes Inc., released a new article today regarding how there may be advantages to building a custom home on an existing lot.
Although Arthur Rutenberg Homes builds primarily in subdivisions, their builders have extensive experience with building custom homes on customer lots, often in unique places that have proven challenging to other builders.
The article uses these lessons learned to assist prospective home buyers decide if building on a lot outside of a "regular" subdivision makes sense to them. The article discusses not only reasons for building on a lot, but illustrates the pitfalls that can exist with customer lots.
Building a custom home on a lot has long been a topic of home buying research and is often associated with the "perfect home". However, the realities many consumers have experienced is that many builders have little interest or the required skills to build the home or at least keep costs in line. Many buyers have found out after a purchase that the home of their dreams simply can not be put on that lot. Even with an excellent builder, compromise is often the key to a successful build.