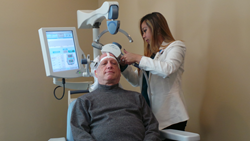 Jacksonville, Fla. (PRWEB) December 17, 2014
Baptist Behavioral Health is offering a new brain stimulation therapy to help people suffering from severe depression who have not had success with antidepressant medications.
NeuroStar ® TMS Therapy is a non-invasive, outpatient procedure which uses a pulsed magnetic field to stimulate function in brain regions known to affect mood. The NeuroStar System is the first transcranial magnetic stimulation (TMS) device cleared by the Food and Drug Administration for the treatment of depression.
The therapy is performed in an outpatient office of Baptist Behavioral Health and involves a patient sitting in a chair, similar to a dentist's chair. The patient is awake and alert with a soft magnetic coil plate resting lightly on the patient's head. Highly focused MRI-strength magnetic pulses are delivered to non-invasively stimulate nerve cells in the left prefrontal cortex of the brain, an area known to control mood. This alters blood flow and metabolic activity in the brain resulting in improved mood. During treatment which lasts about 40 minutes, patients hear a clicking sound and feel a light tapping sensation. Patients receive daily outpatient care for four to six weeks and resume normal activities immediately after each treatment.
"Baptist Health is dedicated to providing the full continuum of care for patients with mental illness," said Ellen Williams, PhD, Baptist Health administrator of Behavioral Health. "This now includes TMS, which is a promising technique for people with major depression who are not responsive to drug therapy. We are encouraged by the research outcomes reported for TMS, and look forward to seeing similar positive results at Baptist."
Baptist Health is the first health system in the Jacksonville area to offer this treatment though it has treated more than 18,000 patients nationally since 2008, according to the medical device company Neuronetics.
"Mood disorders are an enormous economic and social problem in the United States," said Norman R. Weldon, of Amelia Island, who co-founded Neuronetics and remains an investor with his son, Tom. "It was a medical need crying out for a solution and this treatment was a chance to help solve a huge problem."
Major depressive disorder is one of the most common mental disorders in the United States. Each year about 6.7 percent of U.S adults – or more than 14 million people – experience major depressive disorder, according to the National Institute of Mental Health. Major depression involves severe symptoms that interfere with a person's ability to work, sleep, study, eat and enjoy life.
"TMS therapy is a very safe procedure," said Michael Solloway, medical director for Baptist Behavioral Health. "This is another tool to treat people who are really suffering from depression and nothing else has worked for them."
Dr. Solloway also treats a number of elderly patients who do not do well on medications because of side effects.
"There is no reason to live with depression when it can be treated," added Shariq Refai, psychiatrist for Baptist Behavioral Health, who is the premier physician providing the treatment. "Being able to offer this therapy to patients is very significant. There are people who for some reason medications don't work appropriately. This is a good option because it's non-invasive. You just sit there and let the magnet do its work."
Ronald Rosener, 59, of Riverside, has been on medication for severe depression for about 20 years, but has not seen a noticeable improvement. He was eager to take part in the new treatment. Because of his depression, he rarely gets out of the house except to work three days a week and to visit his parents.
"Until now, I have not seen any light at the end of the tunnel with my depression. I was open to the new treatment and willing to give all my energy to it," Rosener said.
After four weeks of treatment, he said he noticed improvement in his mood. "I'm a little more active and my outlook and mood is better. I'm able to think more positively," Rosener said. "I'm looking at volunteering as a pet sitter and doing other things to get out of the house and be active."
Dr. Refai adds, "Depression can be extremely debilitating, there is no reason to let it control you when there are providers willing to help you treat it and help you take back control of your life."
For more information on this therapy treatment, contact Baptist Behavioral Health at 904-376-3800.
###
About Baptist Health
Baptist Health is a faith-based, mission-driven system in Northeast Florida comprised of Baptist Medical Center Jacksonville; Baptist Medical Center Beaches; Baptist Medical Center Nassau; Baptist Medical Center South; Baptist Clay Medical Campus and Wolfson Children's Hospital – the region's only children's hospital. All Baptist Health hospitals, along with Baptist Home Health Care, have achieved Magnet™ status for excellence in patient care. Baptist Health includes the area's only dedicated heart hospital; cancer centers; orthopedic institute; women's services; neurological institute, including comprehensive neurosurgical services, a comprehensive stroke center and two primary stroke centers; a Bariatric Center of Excellence; a full range of psychology and psychiatry services; outpatient facilities; urgent care services; and primary and specialty care physicians' offices throughout Northeast Florida. For more details, visit baptistjax.com. For information on Wolfson Children's Hospital, visit http://www.wolfsonchildrens.org.