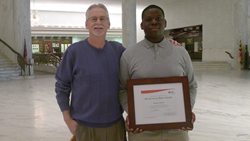 "I just never imagined I would save someone's life," Randy said.
Hershey, PA (PRWEB) December 17, 2014
Milton Hershey School® (MHS) high school student Randy Gibson recently was awarded with the Heartsaver Hero Award from the American Heart Association (AHA) for his efforts in saving the life of another person.
Randy is honored for springing into action and performing cardiac resuscitation until medical personnel arrived when MHS Houseparent Jim Smith suffered a heart attack while running on the Milton Hershey School campus. Randy learned CPR with AED training in his 10th-grade health class. The class teaches students the necessary skills to assist in performing life-saving measures.
"I was just really calm and did what I remembered from class. It was all very surreal because I couldn't believe I had done something like that. I just never imagined I would save someone's life," Randy said.
Each MHS student is given the opportunity to become certified in CPR in 10th-grade. Thanks to the school's commitment to providing students with necessary life skills and Randy's quick actions, Smith's life was saved.
ABOUT MILTON HERSHEY SCHOOL
Milton Hershey School® is one of the world's best private schools, offering a top-notch education and positive home life to children in pre-kindergarten through 12th grade from families of lower income at no charge. Learn more at mhskids.org.