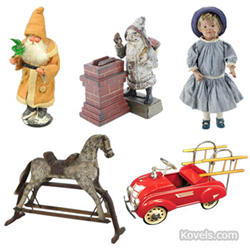 Cleveland, OH (PRWEB) December 18, 2014
Here are five antique Christmas toys that still thrill children and will make great gifts this year.
1. Candy containers. Candy containers have been popular holiday gifts since the late Victorian era. Some of the earliest tree decorations were edible, so candy containers were often also used as Christmas tree ornaments. They are made of glass, tin, or papier mache. This candy container is made of composition and cloth, has a rabbit fur beard and holds a small feather sprig. It sold for $700. (Bertoia Auctions)
2. Dolls and accessories. Dolls have been on children's Christmas lists since the mid-1800s. Rag, cloth and wood-jointed dolls, and dolls with wax or bisque heads in everything from simple dresses to evening gowns have long been wished-for presents. Dolls' accessories include everything miniature from clothes to furniture, as well as, appliances and houses. This doll, made by Schoenhut about 1910, is painted wood with a spring-jointed body, sold for $266. (Noel Barrett) The dollhouse, made by the German company, Gottschalk, is wood, wallpapered, and has a crank-operated elevator. It's 21 inches high and sold for $590. (Noel Barrett Antique Toy Auction)
3. Ride-on toys. Wheeled toys, including bicycles, became popular in the late 1800s. The first pedal cars were introduced in the 1890s. They looked like the first automobiles, but a few were designed to look like specific brands. By the 1930s, pedal cars morphed into pedal trucks, jeeps and airplanes and still remain popular. This 1930s Steelcraft Airflow pedal fire car is 43-inches long and sold for $266. (Bertoia Auctions)
4. Mechanical bank. Mechanical toy banks were most popular from 1870 to the 1930s. Many had designs that encouraged children to save money. This c.1890 Santa Claus bank was made by Shepard Hardware Co. Put a coin in Santa's hand, press the lever at his foot and Santa drops the coin into the chimney. It sold for $720. (Morphy Auctions)
5. Rocking horse. Many 18th-century children enjoyed rides on rocking horses. Some move back and forth on curved rockers and others go up and down with straps or springs on a frame. Although earlier models exist, many were actually dangerous because they lacked proper balance. This 19th-century rocking horse swings back and forth on a glider base. It sold for $480. (Northeast Auctions)
Other still-popular toys include vintage sleds, Noah's Ark figure sets, cast iron trucks, especially fire hook and ladder or pumper trucks and tin clockwork merry-go-rounds and musical toys.
Giving gifts at the time of the winter solstice dates from Roman times. St. Nicholas was a third-century monk who was known for his generosity and as a protector of children. Fast forward to the 18th century when his legend was spread from Europe to America by Dutch settlers, who nicknamed him "Sinter Klaas," then add about another 100 years, and you have the custom of giving gifts to children at Christmas.
Terry Kovel is America's foremost authority on antiques and collectibles. She is the well-known columnist and author of more than 100 books on antiques and collecting. With her daughter, Kim Kovel, she co-authors the best-selling annual "Kovels Antiques and Collectibles Price Guide." Both Terry and Kim are collectors. They will discuss antiques and collectibles topics with accredited media. Photographs are available. Contact pr(at)kovels.com.
About Kovels.com
Kovels.com, created by Terry Kovel and Kim Kovel, provides collectors and researchers with up-to-date and accurate information on antiques and collectibles. Kovels' Antiques was founded in 1953 by Terry Kovel and her late husband, Ralph. Since then, Kovels' Antiques has published some of America's most popular books and articles about antiques, including the best-selling "Kovels' Antiques and Collectibles Price Guide," now in its 47th edition. The Kovels' website, online since 1998, offers 900,000 free prices, and includes a free weekly email, "Kovels Komments." Kovels.com gives readers a bird's-eye view of the market through the latest news, auction reports, a Marks Dictionary, readers' questions with Kovels' answers and much more.
Contact Information:
Liz Lillis
216.752.2252
Pr(at)kovels(dot)com