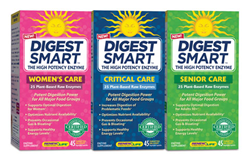 When we formulated our Digest Smart brand, it was our mission to bring you the highest quality, natural digestive enzymes available today.
Clearwater, FL (PRWEB) December 18, 2014
The Digest Smart Difference
Digest Smart is available in 3 formulas – Critical Care, Women's Care, and Senior Care. These enzyme formulas can be taken with every meal or especially when eating particularly problematic foods to support better digestion.
Digestion Power Guaranteed
Digest Smart comprehensive enzyme formulas are high in Enzyme Activity Values (EAV), which is a measure that shows how effective an enzyme is in breaking food down into smaller, absorbable nutrients. Digest Smart enzyme formulas are the first enzymes to be certified for potency and purity by the International Enzyme Testing Program, IZYME Program™, which tests and measures the total Enzyme Activity Value (EAV) for each major food group – protein, fats, carbohydrates, and fiber. This certification verifies that Digest Smart formulas exceed the IZYME Program™ standards, and consumers can check the testing results at http://www.izymeprogram.com.
Targeted Delivery Capsules
Digest Smart enzyme formulas also feature targeted delivery capsules, which are important to shield the enzymes from stomach acid and ensure delivery to the intestines where 90% of digestion occurs.
Renew Life founder and president, Brenda Watson stated, "When we formulated Digest Smart, it was our mission to bring you the highest quality, natural digestive enzymes available today. As the Digestive Care Experts, we created Digest Smart enzymes to be the perfect companion products with our #1 selling Ultimate Flora™ probiotics to support good digestive health."
About Renew Life
A leader in natural digestive care,Renew Life Formulas was founded in 1997 by Brenda and Stan Watson on the premise that vibrant, lasting health can only be achieved with a properly functioning digestive system. The company offers a full spectrum of award-winning, digestive-care supplements, formulated from the highest quality ingredients derived from nature, with no added artificial ingredients. Renew Life stands behind the purity, potency, and efficacy of every product.
For additional information on Digest Smart enzymes, please contact bcooper(at)renewlife(dot)com