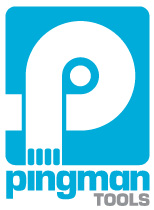 Pingman Tools is an enhanced version of Nessoft.
Boise, Idaho (PRWEB) December 18, 2014
In 1998, Pete Ness, CEO of Pingman Tools, founded Nessoft and released PingPlotter, a program that makes network troubleshooting easier by graphing performance over time. Since its release, millions of businesses and individuals have used the product to measure and improve network performance.
As networks became more entrenched in everyday life, Nessoft's dreams of innovation outpaced its operational capabilities. It became apparent that additional resources, new team members, and a revitalized brand could bring even more goodness to the world. The Nessoft brand and culture were not big enough. According to Pete, "Rallying a new team around a company named after myself felt limiting. What we want is a brand that embodies our mission to make network troubleshooting easier - maybe even fun - and for our team to have fun while we're doing it."
Pingman Tools is an enhanced version of Nessoft. The Nessoft tradition of building great troubleshooting software with great customer service will carry on, but with more frequent upgrades, new products, and a bit more fun. Pingman Tools will also continue sharing and developing Nessoft's collection of network troubleshooting wisdom.
Network problems are frustrating, potentially expensive, and eventually impact everyone. Pingman's software focuses on visualizing network performance so users can pinpoint where problems originate. Gathering objective proof of the source of problems can be mutually beneficial to users and innocent service providers alike. Beyond software, Pingman's free library of information helps troubleshooters of all skill levels improve their abilities. Beginners can learn how to avoid tech support calls or develop more advanced skills by following a step-by-step network troubleshooting guide and studying an extensive collection of other articles and documentation.
Since 1998, Pingman Tools (formerly Nessoft, LLC) has made network troubleshooting suck less by providing the tools and processes that make it easy to monitor and troubleshoot networks. Pingman Tools, and its products PingPlotter and MultiPing, have been successfully employed by a wide range of users including casual surfers, hardcore gamers, chronic "out of thin air" World of Tanks spawnees, VoIP talkers, stock traders, internet rookies and serious IT pros.