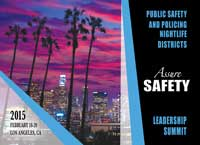 Police will share the most effective strategies for diffusing conflict and how to proactively reduce safety impacts in nightlife settings.
Scotts Valley, CA (PRWEB) December 19, 2014
Challenges and opportunities in nightlife development have motivated city and state leaders in public safety from throughout North America to seek practical tools and solutions at the Responsible Hospitality Institute (RHI)'s premier event. RHI joins a collaborative partnership with the Major Cities Chiefs Association and the Los Angeles Police Department in hosting the February 18-20, 2015 Public Safety and Policing Nightlife Districts Leadership Summit in downtown Los Angeles.
"The Los Angeles Police Department is honored to co-host RHI's Public Safety and Policing Nightlife Leadership Summit so we can showcase our strategies while being able to collect smart practices from cities throughout North America," notes Michael Downing, Deputy Chief, Los Angeles Police Department. He adds, "This event has the potential to deepen partnerships and raise the stature of the Hospitality environment."
RHI's Leadership Summit on Public Safety and Policing Nightlife Districts will showcase model strategies and best practices for maintaining safe and vibrant nightlife. Police represent the front lines of public safety in nightlife districts as the only department typically staffed at night, yet no uniform standard exists for selection, training, or deployment of officers in nightlife settings. Police from a broad spectrum of ranks – from sergeants and captains to commanders and chiefs – will participate in this event to share the most effective strategies for diffusing conflict and proactively reducing safety impacts in nightlife settings. Facilitated workshops will focus on the following themes:

Officer Selection and Training for Nightlife Districts
Deployment Strategies and Officer Scheduling
Research on Violence, Sexual Assault and Drunk Driving to Reduce Risk
Collaboration between Hospitality, Safety and Business Groups
District Density and Determining the Tipping Point
Role of Elected Officials in Establishing Local Control Mechanisms
Venue Safety Training and Technology
Collaborative Approach to Educate, Monitor and Intervene with Hospitality Businesses
Public Space Management
When well-planned and managed, dining and entertainment districts facilitate safe and fun social opportunities among residents and visitors. Nightlife is a key economic engine, as the hospitality industry creates jobs and enhances a city's competitive advantage to attract new businesses, residents, students, conventions and tourists.
Yet poorly managed districts and unruly nightlife crowds can generate increased crime and safety risks. The clustering of bars and clubs in nightlife districts is associated with increased potential for risk due to closing time fights, sexual assault, vandalism, and impaired drivers in a densely concentrated location. Predators target intoxicated patrons as easy prey and panhandlers tend to congregate on the streets due to the heavy foot traffic.
Nightlife settings and their distinct challenges therefore require specialized training and unique management strategies which will be featured at the Leadership Summit.
Additional information about RHI can be found at http://www.rhiweb.org. More information about the Leadership Summit on Public Safety and Policing Nightlife Districts is available at rhiweb.org/summit/2015/safety/index.html or you can call 831.469.3396.