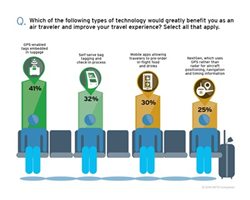 The only way to effectively deal with such congestion is to invest for the long term in innovative technologies ...
Kansas City, MO (PRWEB) December 18, 2014
When many U.S. schools begin their holiday break this Friday, U.S. airports will experience one of their busiest days of the year, according to industry association Airlines for America. "That amount of passenger traffic will cause congestion at airports across the country," said Laddie Irion, HNTB national aviation market sector leader.
"Over the next two decades the nation's air travel is projected to increase steadily to the point where every day will seem like this Friday," Irion said. "The only way to effectively deal with such congestion is to invest for the long term in innovative technologies, such as NextGen air traffic control systems, as well as airport landside and airside improvements that will accommodate such growth."
In fact, a recent America THINKS survey from HNTB found a majority (53 percent) of U.S. fliers said that, in order to cut wait times, ensure safety and improve the travel experience, airports need to change the way passengers check-in, go through security and claim their bags.
The firm conducts infrastructure-related surveys on an ongoing to encourage dialogue and discussion among industry professionals, elected and appointed officials and the general public about the development of a new, long-term well-funded vision for America's infrastructure. For more information and to download a compilation of all the America THINKS surveys from 2014, visit the HNTB's web site.
HNTB's America THINKS national air travel survey polled a random nationwide sample of 1,013 Americans Nov. 11-17, 2014. It was conducted by Kelton, which used an e-mail invitation and online survey. Quotas were set to ensure reliable and accurate representation of the total U.S. population ages 18 and over. The margin of error is +/- 3.1 percent.
About HNTB
HNTB Corporation is an employee-owned infrastructure firm serving public and private owners and contractors. Celebrating a century of service, HNTB understands the life cycle of infrastructure and addresses clients' most complex technical, financial and operational challenges. Professionals nationwide deliver a full range of infrastructure-related services, including award-winning planning, design, program management and construction management. For more information, visit http://www.hntb.com.