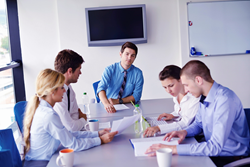 Our survey shows that when it comes to educational materials, young professionals prefer print.
Madison, WI (PRWEB) December 18, 2014
Omnipress, provider of content solutions for associations and other organizations, conducted a survey to learn more about young professionals and how they prefer to read educational content. In this independent survey, 548 people (all 22-33 years old) answered questions about how, when, and why they read professional content.
"We have been hearing from clients that their youngest members want all of their educational content online," said Omnipress' CEO, Tracy Gundert. "But we had doubts. Other research we consulted showed that millennials read printed books, sometimes more than other age groups. To learn what young professionals were really thinking, we decided to ask them."
The survey was written by Omnipress, but administered by a third party to people between the ages of 22 and 33. Educational and professional material was the focus of the survey; other types of reading (for information or pleasure, for example) were not addressed.
"Millennials have never known a world without the internet. But those who think that they only want to read online are in for a big surprise," said Vice President of Business Development, Steve Manicor. "Our survey shows that when it comes to educational materials, young professionals prefer print. They find it easier to learn from printed materials, especially if the content is complex. Note-taking, which is best done by hand, is also important to millennials."
Some key takeaways from the survey, as shown in the white paper that details the results:

59% of respondents find it easier to learn from printed materials.
58% agree that printed materials are better for reference.
86% agree with this statement: "The world is more connected than ever, but I think there's still a place for printed materials."
68% will "never stop reading printed educational materials."
50% prefer print when reading something the need to learn; just 18% prefer digital content.
To read the full survey results, visit the Resource section on Omnipress.com and download "Millennials and Print: How and Why Your Youngest Members Read from the Page." Survey-takers were also given an opportunity to share their thoughts about reading educational materials. Here is what they had to say:
"I have had technology fail me several times. Important files have been deleted, smartphone batteries have died at the most inopportune times, and not every conference venue provides a reliable signal for accessing online materials … [T]here is a place for printed materials."
"One of the reasons I don't like using digital formats for education materials is because it is really hard to go back and reference things. I can't tab or bookmark pages the way I can with a printed book. With a digital book, I have to remember something, like a name, a keyword, in order to use a search function to find what I'm looking for. With a printed book, I can flip through the pages looking for it."
"I think print is important because you can keep it and refer to it later. With digital things, I feel like it gets lost on the hard drive and is less accessible or I even forget I have it completely."
About Omnipress
Omnipress helps organizations collect, produce, and deliver educational resources for their members.
Products Include:
--Abstract Collection and Speaker Management Systems
--Conference Printing
--Digital Publishing Platforms
--Event Content Websites
--Mobile Event Apps
--Poster Print, Fulfillment, and Online Access
--CD and USB Production
--Print-On-Demand and Order Fulfillment (Continuing Education Training)
Our customers rely on us for our 35+ years of dedicated customer-service, vast knowledge of associations and undisputed dependability.