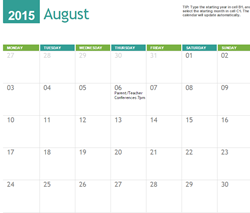 Our templates can be filled in, updated, and saved on your computer, tablet, or even your phone.
(PRWEB) December 19, 2014
With the New Year quickly approaching, many are looking to update their calendars to fit the 2015 year. Academics, work tasks, and personal appointments are all recorded in calendars to help track day-to-day life. As more people rely on digital calendars to record and organize their life, Excel templates have become an effective way to maintain a schedule.
MyExcelTemplates, an online leader in Excel resources, has released numerous new templates for the 2015 year. Budgeting tools, academic calendars, and task lists for the New Year have been added for users to download at no charge.
"It's nearly impossible to live without some sort of calendar these days," said Ben Davidson, MyExcelTemplates' spokesperson. "Our templates can be filled in, updated, and saved on your computer, tablet, or even your phone."
Davidson went on to explain the value of calendar templates. "We made it a priority to focus on 2015 templates aimed at students, people in business, and those who want to complete their New Year's Resolutions. Some even allow you to track your health and fitness routines."
The website already features a collection of hundreds of Excel templates, ranging from simple To-Do lists to group project organizers. The templates can also be printed and filled in manually for those who prefer pen and paper.
"It can be so difficult to create your own Excel sheet that tracks your entire year. We strive to offer as many pre-made templates as possible so users can easily focus on their tasks and appointments rather than creating their own tracking system," said Davidson. "In the digital age, everyone should be able to easily customize their calendars to fit their own needs."
MyExcelTemplates offers hundreds of templates for calendars, fitness, gardening, business, budgeting, and more. All documents are available at no charge and work in Excel. Available all year around, anyone can find the template they need for a particular project or event and use it as a starting point.
"I'm proud of 2015's additions. I know a lot of people will get good use out of them," said Davidson.
To see MyExcelTemplates' collection and download your calendar, visit MyExcelTemplates today.