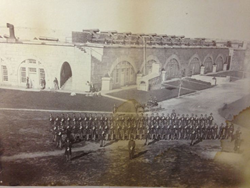 This place has an incredible magic. It's almost like the largest castle you'll ever see.
Newport, RI (PRWEB) December 18, 2014
"Fort Adams has come a long way in recent years," notes Robert McCormack, Director of the Visitor Experience for the Fort Adams Trust. He continues, "Before the Trust was founded less than 20 years ago, no one could even enter Fort Adams. Today, I'm proud to say that we now run a variety of self-guided and guided tour programs throughout the year. This year we broke our previous record with almost ¼ million dollars in tour education income and 25,000 visitors. The rate of visitation growth is increasing and we are anticipating 30,000 – 35,000 paid tours of all types in 2015."
Rick Nagele, Executive Director of the Fort Adams Trust, adds "It's really encouraging to see interest in this amazing landmark increasing through time, rather than decreasing. We're hearing from soldiers, their families and people knowledgeable about history, both locally and nationally, about Fort Adams history. Every story and artifact we learn about brings something new to our activities here."
Sarah Bliven, frequent local visitor, recently told the Trust staff, "I do everything from walking my dog here to attending special events. This place has an incredible magic. It's almost like the largest castle you'll ever see. At night, all lit up, it is truly spectacular. And the stories they tell about the growth of America are truly worthy."
"We're still learning more about the Fort. For example, a photograph of the Fort from 1862 was just donated to us by the Northeast Collaborative Architects. This photo shows cannons mounted on the north roof, which we have never seen photographed before," says McCormack. "It's things like this that encourage our efforts and give us more to add to the tours," Nagele concludes.
Through December (weather dependent) there will be daily guided tours at the Fort at 12 and 2 PM. Go to http://www.fortadams.org for updates and information. A new tour program is being developed for spring of 2015, and the Trust is exploring the possibility of a traveling exhibit visiting from April 15 through June 15.
About the Fort Adams Trust
The Fort Adams Trust is a 501 (c)(3) non-profit responsible for preserving, programming, and promoting the National Historic Landmarks in Fort Adams State Park in Newport, Rhode Island. Over 100,000 people tour the Fort and attend events in the Park annually. The Trust accepts donations to support its preservation and programming missions.
http://www.FortAdams.org
About Newport, Rhode Island
Newport, often called the City by the Sea, is also referred to as "New England's second global city." In addition to the incredible historic destinations and cultural activities, great restaurants and shops, and unrivaled scenic beauty, there is a cosmopolitan sophistication to the City. International visitors abound and you can hear multiple languages on the streets. http://www.discovernewport.org