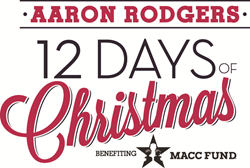 MILWAUKEE (PRWEB) December 17, 2014
From December 1st to December 12th, 2014, Kohl's and the Milwaukee Journal Sentinel teamed up with Aaron Rodgers to raise funds for the MACC Fund through the 3rd Annual Aaron Rodgers' 12 Days of Christmas. The campaign raised $80,000 for the MACC Fund, a non-profit that works to fund research into childhood cancer and blood disorders.
"The MACC Fund is so grateful to be part of this great third annual "Aaron Rodgers 12 Days of Christmas" sponsored by Kohl's and created by the Milwaukee Journal Sentinel," Jon McGlocklin, President and Co-Founder of the MACC Fund said. "This unique program bringing together our good friend and benefactor, Aaron Rodgers, and two great home-grown corporate citizens in Kohl's and the Journal Sentinel truly is a 'Trifecta of Hope' for children battling cancer and blood disorders. Thanks to all of the generous people who shopped at Kohl's for their special 'Gift of Hope'."
The 3rd Annual Aaron Rodgers' 12 Days of Christmas again featured 12 children from across Wisconsin who were treated in the MACC Fund Center at Children's Hospital of Wisconsin. Children's Hospital is one of the beneficiaries of MACC Fund support. This year's children ranged from ages three to nineteen years old. Emma, Charlie, Wiley, Ateat, Olivia, Bobby, Chris, Natalie, Jordan, Jay, Zachary, and Lily were featured in full-page ads within the Milwaukee Journal Sentinel. Each ad showcased a piece of the child's story and how the MACC Fund has helped extend their life expectancy. Online, at http://www.jsonline.com/12days each child had their moment to shine as the main feature on one of the twelve days, corresponding with the print ad. The website also includes video interviews with each child's parent, where they recount their heartwarming story of how their lives were positively changed through the care and resources that Children's Hospital of Wisconsin and the MACC Fund provide.
During the 12 Days of Christmas campaign, Milwaukee-area Kohl's stores donated 5 percent of the net sales of all eligible toy purchases made between Dec. 1 and Dec. 12, 2014, to the MACC Fund.
On Tuesday, December 16, Kohl's presented honorary MACC Fund Board Member Aaron Rodgers and Executive Director of the MACC Fund, John Cary the $80,000 raised through 12 Days of Christmas at Lambeau Field. For more information on the campaign, please visit http://www.jsonline.com/12days
About the MACC Fund
Since its inception in 1976, the MACC Fund has contributed more than $50 million for pediatric cancer and blood disorders research for diseases like aplastic anemia and sickle cell. MACC Fund supported research in Wisconsin benefits the treatment for children throughout the state, the nation and the world playing an important role in helping the overall cure rate for childhood cancer rise from 20% to 80% over the past 38 years. The MACC Fund supports research at the Medical College of Wisconsin in the MACC Fund Research Center, in the MACC Fund Center at Children's Hospital of Wisconsin, and in the University of Wisconsin's Carbone Cancer Center MACC Fund Childhood Cancer Research Wing. The MACC Fund believes that every child deserves a fighting chance. Learn more at http://www.maccfund.org.
About Kohl's Department Stores
Kohl's is a leading specialty department store with 1,163 stores in 49 states. With a commitment to inspiring and empowering families to lead fulfilled lives, the company offers amazing national and exclusive brands, incredible savings and inspiring shopping experiences in-store, online at Kohls.com and via mobile devices. Committed to its communities, Kohl's has raised more than $257 million for children's initiatives nationwide through its Kohl's Cares® cause merchandise program, which operates under Kohl's Cares, LLC, a wholly-owned subsidiary of Kohl's Department Stores, Inc. For additional information about Kohl's philanthropic and environmental initiatives, visit http://www.Kohls.com/Cares.
Connect with Kohl's:
Facebook (facebook.com/Kohls)
Twitter (twitter.com/Kohls)
Google+ (plus.google.com/+Kohls)
Pinterest (pinterest.com/Kohls)
Instagram (instagram.com/Kohls)
YouTube (youtube.com/kohls)
About the Milwaukee Journal Sentinel
Journal Sentinel Inc. publishes the flagship Milwaukee Journal Sentinel newspaper as well as a range of other print and electronic products, including JSOnline.com, primarily serving people and businesses in southeast Wisconsin. JSEverywhere offers a bundled subscription for both print and digital or digital-only subscribers with added applications for both mobile devices and tablets. Journal Sentinel is committed to providing news coverage that reflects the ever- changing world and fulfills the needs of readers and advertisers both in print and online.
###