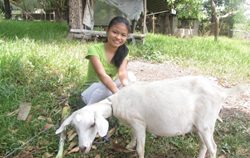 Phoenix, Ariz. (PRWEB) December 18, 2014
When it comes to charitable giving, it doesn't get much better than donating a goat to a family in need. There's a reason why the photos of children with goats typically include a broad grin. The children are smiling because goats are both a source of nourishment and a source of income. These hooved animals mean the difference between living in abject poverty and having hope for a healthy and prosperous future.
When you give the gift of a goat, you are providing a family with a steady supply of goat's milk, which is a dependable source of protein for children. For parents struggling with hunger and poverty, a goat that provides more than a half-gallon of milk each day means sending the kids to bed with healthy, full bellies instead of wondering and hoping if they'll be able to give them the nourishment they need to thrive.
In addition, goats are a reliable source of income. In the case of dairy goats, the goat's milk is used by the family and can also be sold. Training is available that teaches families to breed the livestock so that the offspring can be sold for income that is used to pay for basic household needs like food, school fees and clothing. Essentially, the goats act as the family savings account. The families use the goats to provide manure to help their gardens grow and when they have a need for money, they make a "withdrawal" by selling a goat.
Food for the Hungry (FH) recently gave two pregnant goats to a family of four in the Philippines. Before receiving the animals, parents Roberto and Mariquit Trinidad struggled to provide food to their children and hunger was an everyday occurrence. Thanks to the gift of the goats, the Trinidad family was able to earn income from selling the goats' eight kids. They now enjoy three meals a day and have enough money to afford school projects. Daughter Hannah Jane loves to care for the goats and thanks God for providing for and loving her.
The FH Gift Catalog includes a wide selection of gifts, each selected for their ability to have a positive, sustainable impact on the health, wellness and quality of life of the recipients. Learn more at https://fh.org/give/catalog.
Founded in 1971, Food for the Hungry provides emergency relief and long-term development programs with operations in more than 20 countries to help the world's most vulnerable people. Learn more by visiting fh.org. Social connections include facebook.com/foodforthehungry and twitter.com/food4thehungry.