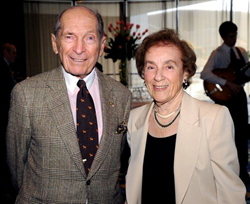 The Grants have been one of our most steadfast supporters for more than 40 years, and their tremendous influence can be seen throughout Purchase College
New York, NY (PRWEB) December 23, 2014
Emily and Eugene Grant, devoted supporters of higher education and renowned arts patrons, have provided a $5 million gift to Purchase College-SUNY to establish three new funds that will support the Provost's Office for Faculty and the Conservatory of Music. With this latest gift, the Grants have cumulatively donated more than $10 million to Purchase College.
The Grants, long-time residents of Mamaroneck, NY, have previously funded hundreds of deserving students at Purchase College through the Eugene and Emily Grant Merit Scholarship and the Eugene and Emily Grant Music Scholarship programs. Their most recent donation – the Grant's largest gift ever to the college – will offer incentive awards for faculty; cover production expenses for the Opera Program, such as royalties, costumes and guest artists; and provide unrestricted funds for the Conservatory of Music's greatest needs.
"My husband and I believe in the positive impact of quality public higher education, and we are proud to continue our support of Purchase College," said Mrs. Grant, who joined the board of the Purchase College Foundation in 1969, serving as Chairwoman for 18 years. "Through our latest gift, including both endowed and non-endowed funds, we hope to enable the College to see immediate impact and help the institution meet and sustain its long-term needs."
"The Grants have been one of our most steadfast supporters for more than 40 years, and their tremendous influence can be seen throughout Purchase College," said Purchase College President Thomas J. Schwarz. "Their latest gift will enhance Purchase College's ability to attract and retain the highest caliber faculty and provide more students access to high quality education in the arts and liberal arts. I am exceedingly grateful to the Grants for their continued generosity."
The new $5 million gift by Emily and Eugene will establish three funds:

Eugene Grant Faculty Incentive Fund ($2 million non-endowed) will help recruit and retain faculty who advance the academic quality of the institution and support College priorities in teaching, learning and student success. This Fund will also establish the Eugene Grant Distinguished Scholar for the Liberal Arts.
Emily Grant Opera Performance and Production Fund ($1.25 million endowed; $250,000 non-endowed) will provide support for productions of the Opera Program within the Conservatory of Music and the School of the Arts.
Emily Grant Director's Excellence Fund ($1.25 million endowed; $250,000 non-endowed) will help meet the Conservatory of Music's greatest needs and support undergraduate and graduate student scholarships, faculty and staff awards, as well as facility enhancements.
"This latest generous gift by the Grants is a model for the kind of support that is essential to maintaining Purchase College's nationwide standard of excellence," said Jeannine Starr, Purchase College's Vice President of Institutional Advancement. "We will continue to work closely with Emily and Eugene to ensure this gift reflects their spirit and goals, and I look forward to seeing its immediate and lasting impact on the entire Purchase College community.
About Purchase College
Purchase College, part of the State University of New York (SUNY) network of 64 universities and colleges, was founded in 1967 by Governor Nelson Rockefeller. His aspirations for Purchase were to combine on one campus conservatory training in the visual and performing arts with programs in the liberal arts and sciences. Today, Purchase College–SUNY is a community of students, faculty and friends where open-minded engagement with the creative process leads to a lifetime of intellectual growth and professional opportunity. For more information about the College, visit http://www.purchase.edu.