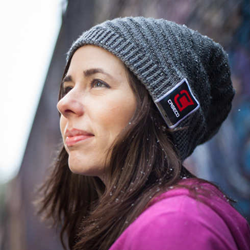 People need a way to use their headphones without getting cold or tangled in the wires. Blu-Toque is the perfect solution for that.
Toronto ON (PRWEB) December 18, 2014
Caseco, the innovative mobile accessory brand has launched 'Blu-Toque', the Bluetooth-enabled winter hat that can be used for music and phone calls.
Caseco has been in the mobile accessory business since 2011, with a growing and loyal customer base in Saskatchewan and Alberta. Their product line has traditionally included flashy, high-quality cases for the latest Apple and Android phones. A slew of charging accessories and various wireless gadgets follow. With Blu-Toque, Caseco hopes to capitalize on the wearable device trend this winter.
"People need a way to use their headphones without getting cold or tangled in the wires," says Jay Rahman, Caseco's CEO. "Blu-Toque is the perfect solution for that. It comes with built in earphones that protect you from the cold while allowing you to enjoy your music or take a call on your phone." The Blu-Toque is offered in both a regular and slouchy fit; the regular coming in both black and grey, and the slouchy coming in slightly more adventurous red, brown or grey varieties. The design is unisex and is designed to go with trendy or casual winter wear.
Owing to Bluetooth technology, the Blu-Toque is completely wire-free and works with virtually all mobile phones. Pairing your phone with the Blu-Toque takes seconds, and the electronics can be removed by unzipping the inner pouch. The built-in microphone allows users to take calls, which can be answered by pressing the button on the earpiece. Finally, the hat comes with a USB charging cable that can hook up to any computer or wall socket adapter.
The Blu-Toque features a status light on the earpiece to let users know what's going on. The light glows red while charging, it flashes blue when on, and it alternates red and blue when pairing with the user's phone. Also included is a voice prompt, with notifications like "Battery low", "Pairing", and "Incoming call".
Caseco will be showcasing the Blu-Toque at CES 2015 this January at Tech West, Sands Expo, Level 2, Booth #74718. Caseco is selling the Blu-Toque on http://www.caseco.ca for CAD $49.99, with free shipping across North America and a 30-day money back guarantee.
Founded by a team of successful mobile phone accessory industry veterans, Caseco is a leading Canadian manufacturer of innovative products designed to enhance popular mobile phones, tablets, and wireless devices. Caseco products are designed and engineered to meet the real-world needs of today's demanding mobile users, delivering superior performance, trend-setting styling, higher manufactured quality — and far greater value.