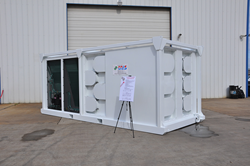 The versatility that this machine brings to the marketplace is unrivaled and can offer our customers the competitive edge they need for future projects.
Houston, TX (PRWEB) December 18, 2014
Custom Air Products & Services, Inc. (CAPS), a leading commercial and industrial heating, ventilation and air conditioning (HVAC) company based in Houston, Texas (US) recently introduced an all-in-one, 60 ton line of portable air conditioning units.
The CAPS 60 ton package unit is a welcomed addition to the existing 20, 30, and 40 ton multipurpose package units. These units all have the ability to provide cooling, heating, and dehumidification operation in a single machine. Additionally the multipurpose package unit line provides high static fan for both return and outside air applications.
These industrial and commercial portable air conditioning package units are self-contained and provide conditioned air for a number of climate controlled applications. CAPS is the largest manufacturer of HVAC equipment for the portable rental business, supplying these customers with reliable, high quality, energy efficient solutions for the HVAC rental markets.
The new 60 ton package units incorporate a rugged design that makes them perfect for the rigors of the portable industry. Standard design features that build on this design include a heavy duty skid and lifting/stacking cage, forklift slots, and tie-downs as well as easy access panels for efficient serviceability. Equipment features include dual independent refrigeration circuits and dual circuit hot gas bypass, 142kw electric heat, 4.25 TSP high static blower, low ambient fan control, and more. In addition to these standard features, a number of optional features are available including explosion proofing, custom coatings and colors, a variable frequency drive package, and stainless steel construction.
"As the leading manufacturer of portable/rental equipment in North America, CAPS has yet again responded to the rental industry's request for diversified equipment in their ever-changing market," explained Vice President, Dave Wasson. "Our new 60 ton multipurpose package unit provides three separate capabilities all with one asset. The versatility that this machine brings to the marketplace is unrivaled and can offer our customers the competitive edge they need for future projects. By providing the industry with high performance units, our customers can then pass on the benefits of these features to their own clients." Wasson's remarks go to reiterate CAPS guarantee to valuing customer-supplier relationships as well as providing to both product- and service-based businesses, all key strategies for maintaining their strong reputation as a trusted provider.
About Custom Air Products &Services
Custom Air Products & Services, Inc. is a full-service HVAC company that specializes in the design, construction, installation, modification, and servicing of industrial and commercial air conditioning equipment. CAPS employees are committed to providing
exceptional custom design and quality workmanship at competitive prices.
Custom Air Products & Services currently occupies five (5) modern facilities, totaling 200,000 square feet in size. These buildings include administrative and engineering offices, training facilities, a filter warehouse, and service shops for fabrication, manufacturing, and modifications. CAPS services are provided to customers throughout the United States and Mexico while their manufactured products have been delivered to sites around the world. Currently CAPS has equipment operating on six (6) continents and in 52 countries.
For more information, contact Custom Air Products at 713.460.9009 or visit them on the web at http://www.customairproducts.com.
If you'd like more information about this topic, please call Shannon Falzon at 713.460.9009 or email her at shannon.falzon(at)customairproducts.com.