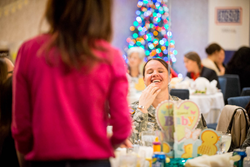 On a personal level, it means a lot. I was really able to me some ladies that I could connect with... Tanya Gehrig, military spouse
Arlington, VA (PRWEB) December 17, 2014
As America prepares to celebrate the holidays, the USO is doing its part to make sure that expectant military moms in the Washington, D.C. area have the opportunity to celebrate their impending bundle of joy in style. With help from program partner and best-selling author Heidi Murkoff, the USO of Metropolitan Baltimore-Washington is hosting two "Special Delivery" events. Each event is designed to be a one-of-a-kind baby shower experience for the Fort Belvoir and Fort Meade military communities. The first shower kicked-off today at the Hilton in Springfield, Va., where 100 military moms-to-be from Fort Belvoir gathered for a very special celebration. A second event will be hosted tomorrow, December 18, for the Fort Meade military community in Maryland.
At each of the daylong events, first-time and experienced moms a like receive tips on staying healthy during their pregnancies, what to expect throughout the delivery process and managing those first milestone years. Additionally, author Heidi Murkoff hosts a Q&A session, where the soon-to-be moms are encouraged to open up about their concerns, ask candid questions and to find support in their fellow military moms.
"On a personal level, it means a lot," said Tanya Gehrig, a military spouse who attended the shower with her 12-day-old son. "I was really able to meet some ladies that I could connect with, it was nice to just meet all of these people."
Since its founding in 1997, the What to Expect Foundation has had one mission: to educate and empower moms in need so they can expect healthier pregnancies, safer deliveries and healthier, happier babies. Co-founders Heidi and Erik Murkoff have taken that mission one step further – partnering with the USO to create the "Special Delivery" program and supporting the needs of military moms. This year alone, the USO has hosted "Special Delivery" events overseas in the Pacific and Europe, as well as at locations stateside such as Texas, New York and Kansas supporting more than eight hundred expectant military moms.
"For military moms-to-be, far away from their immediate family and friends, these baby showers are more than gift bags and cake," said Murkoff. "They are about connecting and sharing a common bond and creating friendships with women experiencing the same mix of emotions during one of the most important milestones of their life. Many of these beautiful mamas will be without their families during the holidays...and I'm so happy to spend time, lend support and my favorite part... give hugs!"
Click here to view photos from the event. For more information about the USO and to find out how you can show your support, visit us online at http://www.uso.org. A complete list of 2014 USO Warrior and Family Care Programs and Services can be found online at http://www.uso.org/warriorandfamilycare/.
In the spirit of the holiday season, the USO is encouraging gift givers to visit http://www.usowishbook.org, the USO's online virtual calendar, to find the perfect gift for that hard to shop for person on their list. USO Wishbook makes it easy for holiday shoppers to give a gift and support troops and military families at the same time.
About the USO
The USO lifts the spirits of America's troops and their families millions of times each year at hundreds of places worldwide. We provide a touch of home through centers at airports and military bases in the U.S. and abroad, top quality entertainment and innovative programs and services. We also provide critical support to those who need us most, including forward-deployed troops, military families, wounded warriors, troops in transition and families of the fallen.
The USO is a private, non-profit organization, not a government agency. Our programs and services are made possible by the American people, support of our corporate partners and the dedication of our volunteers and staff.
In addition to individual donors and corporate sponsors, the USO is supported by President's Circle Partners: American Airlines, AT&T, BNSF Railway, Clark Construction Group, LLC, The Coca-Cola Company, Grand Canyon University, JCPenney, Jeep, Johnson & Johnson, Kroger, Northrop Grumman Corporation and TriWest Healthcare Alliance and Worldwide Strategic Partners: BAE Systems, BIC, The Boeing Company, ConAgra Foods, FedEx, Harris Teeter, Lockheed Martin, Microsoft Corporation, Procter & Gamble, TKS Telepost Kabel-Service Kaiserslautern GmbH & Co. KG and Wawa Inc. We are also supported through the United Way and Combined Federal Campaign (CFC-11381). To join us in this important mission, and to learn more about the USO, please visit uso.org.
About What to Expect Foundation
The What To Expect books, that all began with the iconic What To Expect When You're Expecting have sold more than 45 million copies and are published in over 30 languages.Established in 1997, the What To Expect Foundation is dedicated to helping underserved families and empowering moms in need so that they can expect healthier pregnancies, safer deliveries and healthier, happier babies.
In 2005 the What To Expect brand expanded online with Whattoexpect.com - the interactive companion to the What To Expect books and home to a vibrant, vast yet close-knit community of over 4.5 million parents.