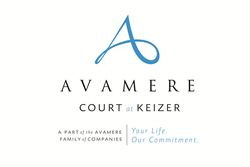 Keizer, OR (PRWEB) December 17, 2014
Avamere Court at Keizer – a community based care and independent living campus for seniors – received a Deficiency-Free state survey result from the Oregon Department of Human Services (DHS). The survey, which is conducted randomly every year by DHS, is administered to all skilled nursing facilities and nursing homes in the state to ensure compliance with the Centers for Medicare & Medicaid Services regulations.
"Receiving a Deficiency-Free survey speaks volumes about all levels of staff and their continued commitment to providing quality care to seniors in the Salem-Keizer area," says Jay Ponciano, Administrator for Avamere Court at Keizer, which is located at 5210 River Road N. "One thing that helped us earn this achievement - beyond our hard work - is that we've put into place quality assurance practices that serve as guiding principles to help us work toward the level of quality that patients and their families expect from us."
Oregon is known to have some of the most stringent survey criteria for skilled nursing facilities in the nation. Buildings are thoroughly surveyed and rated on key categories including safety, administration, quality care, food service, nursing care, and patient rights. The quality inspection performed by a team of DHS representatives also included a review of patients' clinical records, a detailed tour of the facility, and interviews with patients, family members, and staff.
"The Avamere Court at Keizer skilled nursing facility staff work very hard to live out our mission to enhance the life of every person we serve," says Cheryl Anderson, Regional Director of Operations. "It is an incredible achievement to have a care center achieve a Deficiency-Free survey. This is Avamere Court at Keizer's fourth deficiency free survey and we are fortunate to have this team as part of the Avamere Family of Companies."
About the Avamere Family of Companies
Founded in 1995 and based in Wilsonville, Oregon, the Avamere Family of Companies began as a single nursing facility in Hillsboro, Oregon. Today, the Avamere Family is comprised of 42 Independent Living, Assisted Living, Transitional Care and Skilled Nursing facilities, over 6,200 employees, and multiple ancillary healthcare companies that provide services including inpatient and outpatient rehabilitation, home care, home health, and hospice. For more information, please visit http://www.avamere.com.