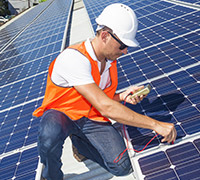 Forecast for the Silver Market to Grow Alongside the PV Market
(PRWEB) December 19, 2014
As companies look back at the solar panel industry year of 2014 in review, they will remember it as the year for PV predictions. As top solar companies such as HSP looks to round out this year of meeting predictions on the right margin, others organizations will already begin the predictions for 2015. The people behind the future predictions are firms such as EnergyTrend. EnergyTrend is a Taiwanese PV analytic organization that helps companies like HSP, a home solar panel installer, prepare for the coming year. The current report shows analysis of; the 2014 year in review, how the global market met predictions, and what major trends the PV market will see in 2015. Jason Huang, the Research Manager at EnergyTrend, expects and predicts solar demands in 2015 to reach 51.4GW across the globe, which is up from its 44 GW 2014 predictions. Even with this large prediction of growth, Jason expects the overall demand to surpass 10GW for 2015, as more markets might emerge and show themselves in the first half of the year.
China, Japan, and The United States are once more playing the role of the top three world markets for overall PV demand, reaching a staggering 57%. Nicholas Bell at HSP is a top executive who is responsible for analyzing reports such as the one put out by EnergyTrend. Nicolas knows what needs to be done in order to have a successful year, and has interpreted the report as a forecast for the silver market to grow alongside the PV market. It is known globally that silver is used as a high performance paste in photovoltaic solar cells and help give them the ability to absorb photons and transform them into renewable energy. Nicholas goes on to explain how silver directly correlates to HSP's solar panels, and the global PV market in general. "A successful solar module must have silver to operate at optimal levels of production. As reports show, solar panel sales will rise, and we'll need to think how it will impact the silver market. HSP is hoping that the rise in solar demand will create a direct rise in demand for silver. We expect this rise in demand to fuel a drop in price for silver, which will ultimately make our panels even more affordable for the end user," explains Nicholas.
Recent predictions of the 2015 PV market growth provides a stable and confident platform for investors and executives to build off of. Companies who are looking to expand in 2015 are the key components that will fuel the PV growth, but the silver market is the only wildcard in the whole equation. Solar companies such as HSP who hope to expand while reducing costs will now have to keep a close watch on the silver market.