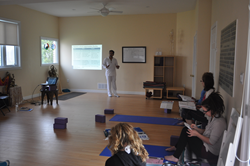 Let food be thy medicine, and thy medicine food - Hippocrates
(PRWEB) December 19, 2014
For those called to a healing vocation but seeking a deeper, subtler understanding of health and healing, as well as those already employed in the health care industry and eager to expand and diversify their approach to health and healing, Integrated Health Yoga Therapy (http://www.ihyt.org/) has created a new 180 Hours Holistic Health Consultant Certification, bringing together IHYT's world-class faculty of leaders in their respective fields and profound integrative approach to present a wide-ranging yet user-friendly program of weekend modules incorporating Ayurveda, Macrobiotics, Oriental Medicine, Nutrition, and Physiology.
IHYT's Holistic Health Consultant Certification spans 8 Modules run approximately 1 weekend per month (Saturday and Sunday from 7 am to 5 pm) from February to October 2015. Specific dates and daily schedules can be found at http://www.ihyt.org/holistic-health-consultant-certification. All Modules take place at IHYT's Hamilton-Stoney Creek, Ontario location. Information on accommodations, travel arrangements, meals, amenities, and more can be found at http://www.ihyt.org/logistics-hamilton.
Macrobiotic expert and natural health counsellor, teacher, and researcher John Kozinski (http://www.macrobiotic.com/) who will be teaching 2 of the Modules, notes how balance is a unifying principle in various holistic health disciplines. Within the principle of balance health expands beyond the notion of disease and treatment to a highly individualized context of optimal health. Diet, lifestyle, exercise, environment, personal outlook and coping mechanisms--balance within all aspects of life is sought out and constantly re-evaluated. Hence while individual symptoms and ailments can and must be addressed, there is a profound shift from a focus on disease to a focus on wellness, from just not being sick to being deeply and joyfully well.
According to Traditional Chinese Medicine practitioner and educator Angela Warburton (http://www.angelawarburton.com/), part of her initial attraction to TCM was its focus "not only on the body and symptoms but also on the mind, emotions, lifestyle and the spirit of the individual. All aspects of equal importance: the balance of being human." TCM, dating back more than 2,000 years in China, is an alliance of medical practices with certain common principles used to maintain or restore a sense of harmony within the body's functional systems. Healing modalities include herbal medicine, acupuncture, massage, exercise systems, and dietary therapy. Included in her Oriental Medicine and Nutrition Module are basic principles of TCM such as Qi and the meridian system, an exploration of the energetic properties and actions of particular foods, and an examination of how to assess requirements for and deficiencies in certain nutrients as well as prescribing medical recipes for clients with specific health problems.
Nitin Shah (http://www.goodlifeayurveda.com/), a native of India and practitioner, philosopher, and teacher of Ayurveda for more than 25 years, is one of a very few Postgraduate Ayurvedic Doctors residing in North America. He represents "an ancient Indian system of holistic health and natural healing which dates back over 5000 years. [Ayurveda] is an art and science of life and wellbeing." It includes the use of plant-based medicines, diet, aromatherapy, massage, meditation, detoxification programs, and other treatments. Ayurveda begins, however, with its philosophical foundation of the 3 Doshas, the fundamental energies that govern mind, body, and spirit. In Sanskrit the Doshas are Vata (Wind), Pitta (Fire), and Kapha (Earth), and each of us has a unique balance and proportion of these 3 forces that shapes our character and forms who we are, our strengths, weaknesses, and tendencies. Ayurvedic practice begins with determining the ideal state of balance unique to the individual patient, then determining where the individual is out of balance and what treatments can help. Individual treatments may be aimed at individual conditions but from a holistic standpoint the ideal state of balance and complete health and wellbeing of the individual are always at the heart of Ayurvedic treatment.
IHYT founder and macrobiotic cooking teacher/health consultant Karen Claffey finally brings together these various holistic traditions in the context of diet, nutrition, food selection and preparation with 2 Modules emphasizing the food aspect so integral to holistic health, echoing the old adage "You are what you eat." These Modules balance a scientific approach to nutrition and physiology with a passionate love of food. Similar to the holistic tradition of not only living without sickness but thriving and living one's best life, Karen's Modules move beyond just eating healthy to eating healthy deliciously, making healthy meals not only a means toward but part and parcel of the sheer enjoyment of holistic thriving.
For information on all of IHYT's certifications and workshops check out http://www.ihyt.org/training-programs.
About Integrated Health Yoga Therapy
IHYT is a yoga therapy school for a wide range of health professionals whose practices might benefit from the skill-sets and philosophy underlying therapeutic yoga. Yoga therapy is becoming more and more recognized and utilized by the medical-scientific community as a safe and effective complementary therapy and treatment in a wide range of conditions. IHYT offers a carefully selected curriculum of evidence-based educational programs taught by faculty who are leaders in their respective fields, as outlined on our website at http://www.ihyt.org/