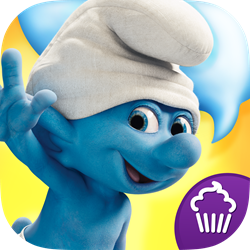 New York, NY (PRWEB) December 18, 2014
Leading children's app developer Cupcake Digital has partnered with Sony Pictures Consumer Products and Peyo, Lafig Belgium/IMPS today to launch a new Smurfs app experience for kids. The Smurfs: iTalk app gives kids the opportunity to interact with their very own Smurf and play with three smurfy mini-games. For a limited time the app will be available for an introductory price of 99 cents (December 18 & 19 only). After the introductory offer expires, The Smurfs: iTalk will be exclusively available for $2.99 on the App Store for iPhone, iPad and iPod touch or at http://www.AppStore.com. In the coming weeks, the app also will be available for download on the Amazon Appstore, Google Play and other app stores.
The Smurfs: iTalk gives kids the chance to talk, giggle, wiggle, feed and dance with a Smurf of their very own. Kids can earn smurfberries to buy foods that keep their Smurf happy. Features include:
Smurf Play

A Smurf that repeats everything he is told
He can be poked and tickled to get funny reactions
The Smurf will bust a move when the piano is played in the app
Users can earn points to buy food for their blue friend
Kids can record their Smurf interactions to share with friends and family (this capability is parent gated for kids' safety)
Mini-Games

Berry Chains: Match delicious berries to beat the clock for points
Smurfy Spins: Pull the lever to score
Flappy Smurf: Tap to guide a flying Smurf, avoid the trees, and grab berries to win
###
About Cupcake Digital
Founded in 2012, Cupcake Digital gives kids the opportunity to interact with the characters they love by transforming children's entertainment properties into award-winning apps. We bring Peanuts, Strawberry Shortcake, Yo Gabba Gabba!, RIO, How To Train Your Dragon, The Smurfs, Madagascar, Shrek, Kung Fu Panda, Wow! Wow! Wubbzy!, and many others to life in enhanced storybook, imaginative play and learning apps. Our team of designers, developers, marketers and all-around app lovers come together to make digital products that kids love and parents value. Cupcake Digital apps are widely available to consumers on the App Store, Amazon Appstore for Android, Google Play, Barnes & Noble App Store for NOOK and others for a wide variety of devices. For more information about Cupcake Digital, please visit http://www.cupcakedigital.com.
About Sony Pictures Consumer Products
Sony Pictures Consumer Products (SPCP) is the licensing and merchandising division of Sony Pictures Entertainment (SPE), a subsidiary of Sony Entertainment Inc., a subsidiary of Tokyo-based Sony Corporation. SPE's global operations encompass motion picture production, acquisition and distribution; television production, acquisition and distribution; television networks; digital content creation and distribution; operation of studio facilities; and development of new entertainment products, services and technologies. For additional information, go to http://www.sonypictures.com.
About Peyo, Lafig Belgium/IMPS
IMPS, together with LAFIG Belgium, are the official licensors of the little blue-skinned characters 'The Smurfs'. Over the years, IMPS has worked in close collaboration with its agents worldwide to develop successful licensed merchandising, retail and co-branded promotions, publishing activities and broadcasting deals that have secured the everlasting success of the Smurfs. IMPS is run by Véronique Culliford, the daughter of Pierre Culliford, the creator of the Smurfs, who is better known under his pseudonym Peyo. The Culliford family has run IMPS for since 1984 and controls the rights to the Smurfs characters and the Smurfs licensing worldwide.