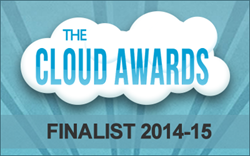 Once could be considered luck, but to be honoured for a second year running is surely testimony to the continued hard-graft and innovation that we put into developing workforce technology platforms, in the Cloud.
Silicon Singapore (PRWEB) December 18, 2014
HRBoss, leading provider of Cloud-based workforce planning and analytics software purpose-built to help organisations blend employee data and make better workforce decisions, today announced that they have been named finalists at the 2014-15 Cloud Awards Program. Awarding companies with excellence and innovation in Cloud Computing, the Cloud Awards is the first and largest recognition platform of its kind open to organizations across the globe. Now in its fourth year, over 300 entries were received from organizations of various sizes, ranging from start-ups to government bodies all over the world, including the US, Canada, Australasia and EMEA.
Commenting on the awards entries, the organizer of this year's awards program Larry Johnson said: "The standard of entries to this year's program has been truly staggering – so much so that even after culling hundreds of organizations from our consideration, our shortlist is still longer than ever before." He continued, "As ever, the US organizations have dominated the submissions process, but we're seeing more and more applicants from farther afield – Europe, the UK, Australia, Asia – we're running the biggest and best celebration of excellence in the Cloud and the whole world wants to join the party."
Winner of 'Best SaaS' outside of US at the Cloud Awards 2014, HRBoss was handpicked by judges and shortlisted as finalists in 4 prestigious categories this year. A strong advocate of leveraging Cloud Computing to bring new, differentiated offerings to the market, CEO & Founder of HRBoss, Bernie Schiemer remarked, "Once could be considered luck, but to be honoured for a second year running is surely testimony to the continued hard-graft and innovation that we put into developing workforce technology platforms, in the Cloud. We are nominated not just for one, but an unprecedented 4 times in unique categories in the same awards program. For a company driving our R&D activities from Asia, this a significant achievement for us. Congratulations to all other finalists, we are truly humbled to find ourselves up against such a strong breed of international talent."
The Cloud Awards finalists were selected by a group of judges from an extensive pool of industry experts around the world. HRBoss is shortlisted for the following categories:
1. Best Data Innovation
2. Best SaaS (non-US)
3. Best HR/Payroll solution
4. Cloud CRM Solution of the Year
Founded in 2011, HRBoss supports all customers on the same platform – the same software version and same code base. As such, HRBoss is able to offer the best-in-class cloud workforce planning, recruiting and analytics solution by providing all customers with the most innovative and up-to-date software through regular complimentary upgrades.
Schiemer continued, "It has always been our priority, from the very beginning, to create value for customers and generate new business potential for them. HRBoss workforce solutions are deployed via the Cloud so that we can maintain our focus on innovation always, in all ways. As a true multi-tenant SaaS enterprise, our engineers and development team spend their time innovating and are not pre-occupied with local installations and one-to-one hardware upgrades. Making the shortlist for a range of categories for 2015 is great news and a seal of approval that HRBoss is heading in the right direction to take on 2015 and beyond."
Final winners will be announced on Tuesday, 27 January 2015. This will not be the end of the process, with a public vote to be announced on this date to decide who will win the Cloud Computing Organization of the Year Award.
For a full list of finalists, go to http://www.cloud-awards.com/previous-winners/2015-shortlist/.
About HRBoss
HRBoss is Asia's leading provider of workforce planning analytics software. There are 3 SaaS products in the HRBoss suite: HiringBoss, the ATS recruiting platform for corporate HR | EmployeeBoss, the workforce Big Data platform for the C-Suite | StaffingBoss, the CRM/ATS for recruiting firms.
Born in Asia in 2011, HRBoss is headquartered in Singapore and maintains presence across the globe with offices throughout the Asia-Pacific region in 6 countries and USA today. All HRBoss Cloud solutions are intuitive, highly-configurable and are supported locally on-the-ground across Asia. Customers include world-leading organizations and government agencies, including Nissan, Audi, Allergan, Changi Airport Group, Metlife, the Monetary Authority of Singapore (MAS), and the Economic Development Board (EDB) of Singapore.
To learn more about HRBoss, visit https://hrboss.com/.
About The Cloud Awards
The Cloud Awards is an international program which has been recognizing and honoring industry leaders, innovators and organizational transformation in cloud computing since 2011. The awards are open to large, small, established and start-up organizations from across the entire globe, with an aim to celebrate the brightest and the best in Cloud Computing. For more information about the Cloud Awards please visit http://www.cloud-awards.com/.