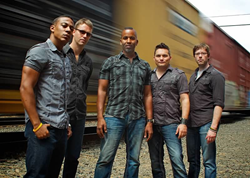 "They sing up a storm in perfect a cappella harmony… Their music is as current as tomorrow's news." – San Francisco Chronicle
San Rafael, CA (PRWEB) January 05, 2015
The House Jacks of San Francisco are the original "rock band without instruments" Using nothing more than their five voices, they deliver everything from blistering funk to screaming rock to heart-melting ballads for their ever-growing legions of fans. Vocal Brilliance.
These pioneering musicians have performed thousands of shows and have shared stages with some of the biggest names in music. The Oakland Tribune praises their "amazing voices, impressive arrangements, and dynamic stage presence". The House Jacks' music can be heard in the movie "Pitch Perfect," on the television show "The Sing Off" and on radio stations around the world.
Five amazing musicians perform in an a capella style that obliterates all preconceptions about what a voice can do.
The evening of a capella opens as local teen group 'Til Dawn set the stage for The House Jacks', 'hard-driving drumbeats, mind-bending guitar riffs and exquisite harmonies. Think: Pitch Perfect, The Voice, Glee, Sing Off, Rising Star.
"Astonishingly precise vocal drumming!" – The New York Times
"A Cappella with Attitude!" –BBC
"I loved it! I loved it! I loved it!" – Ray Charles
What: Rockin' music without instruments from The House Jacks; 'Til Dawn
Who: All are invited. General Admission seating with some table seating available.
Tickets: $10 - $35 with VIP, Reserved; General Admission choices
When: Sat. Feb. 28 at 8:00 ~ Doors at 7:30.
Where: The Osher Marin JCC, 200 N San Pedro Rd, San Rafael, 1/2 mile E off 101
Parking: Ample free parking..
Tickets: Available at http://www.marinjcc.org/arts
A "house jack" is what you use when you want to move a house.
Anyone who's seen them perform live will tell you that the name is appropriate. "Raise the roof" takes on a whole new meaning with the House Jacks.
The House Jacks consist of John Pointer, Nick Girard, Elliott Michael Robinson, Austin Willacy, and Deke Sharon.
The Kanbar Center for the Performing Arts is the Performing Arts Department within the Osher Marin Jewish Community Center in San Rafael, California. For over 20 years we have spread the power of music, voice, humor, taste, culture, movement and words throughout the community by presenting classical music, club style dancing events, comedy, musical concerts, theater and performance in the grand Hoytt Theater, lectures. chats and demonstrations in the Kurland lounge and great world music; dancing for all ages outdoors under summer skies on Swig Field. All are welcome; no membership is required to attend. The Center is a long-standing Marin non- profit, centrally located in Marin County and just 1/4 mile east off Hwy 101.