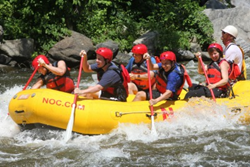 Retirees are migrating to the Western NC region from all parts of the U.S. because they want a gentle four season climate, an active lifestyle with quality health care nearby, and easy airport access – all of which this region offers.
Libertyville, IL (PRWEB) December 18, 2014
After working with relocating retirees for over a decade, Southeast Discovery, a real estate consulting firm specializing in guiding Baby Boomers with their real estate needs in the two niche markets of retirement relocation and second homes in the Southeast region, has noted five key reasons Boomers seek relocation to the Western North Carolina mountain region.
"When relocating at retirement, today's Baby Boomer home buyer is looking for a location that offers an active lifestyle, diverse cultural and educational opportunities, and abundant dining, entertainment and sporting opportunities, and they also want to live in an area with a vibrant economy and access to excellent healthcare," said Marian Schaffer, Principal and Founder of Southeast Discovery. "The Western North Carolina mountain region offers all of these attributes and more."
Schaffer shared the top five reasons her clients choose the Western North Carolina mountain region to relocate to from such states as Illinois, New Jersey, Maryland, Texas, Florida and California.
The city of Asheville: Asheville, North Carolina is consistently recognized as a top place to live, retire, golf, dine, and more. The city has been named a "Top 10 Retirement City" by RelocateAmerica.com, one of the "10 Best Places for Second Homes" by Barron's, and one of "American's Best Affordable Places to Retire" by U.S. News & World Report. It's also been listed as the "#1 Small City for the Arts" by AmericanStyle and one of the "10 Most Surprisingly Vibrant Food Cities" by Livability.com. The diversity of the list speaks to the diversity of the city, and the numerous accolades have made Asheville an increasingly popular choice for those looking to retire or relocate to the Southeast. Superior medical care is available at Mission Hospital in downtown Asheville, and the tourist attraction of Biltmore Estate, the family home of George and Edith Vanderbilt, is located nearby.
Outdoor activities: Whether it's fly fishing, zip lining, white water rafting, golf, hiking, or skiing in the winter months, it's easy to enjoy Western NC's great outdoors all year long. For those who like a mountain climate along with all of the mountain and winter sports that go along with it, it's all available in the Western NC region.
While winters are typically mild in the city of Asheville, nearby ski resorts offer colder temperatures and plenty of snow. Western NC is home to the highest mountains in the eastern U.S. and area ski resorts feature either natural or man-made snow. Temperatures on the nearby slopes are usually 20 degrees cooler than in Asheville. Western NC area ski resorts include Beech Mountain, Wolf Ridge, Sugar Mountain, Sapphire Valley and many others.
Quaint towns: Aside from Asheville, there is a sprinkling of quaint towns throughout the region that feature unique and quirky restaurants, shops and cultural activities. Brevard, Highlands, Black Mountain, Waynesville, Cashiers, Blowing Rock and Hendersonville are a few of the mountain towns in the Western NC region that attract tourists throughout the year.
Beautiful topography: Living in Western NC is not like living on the coast, where in order to see the ocean, you have to be on the beach. In Western NC, you experience the beautiful mountain topography all around you at all times. In the spring and summer, the mountains are draped in green; in the fall, the mountains are vibrant in color with the changing of the seasons, and in the winter, there can often be snow at the higher elevations.
Mild year-round climate: The Western NC mountain region enjoys a generally mild climate and is not prone to extreme weather conditions. Snow storms are rare, with an average annual snowfall of about 15 inches. The mountains surrounding Asheville and Hendersonville, NC keep the area insulated from chilly lows in the winter and humid highs in the summer. The median high temperature in July is around 73 degrees, the median low temperature in January is around 36 degrees.
"Here at Southeast Discovery, we're seeing retirees migrating to this region from all parts of the U.S. I attribute this to the fact that this new generation of retirees wants a gentle four season climate, an active lifestyle with quality health care nearby, and easy airport access – all of which this region offers," said Schaffer.
About Southeast Discovery
Since 2004, Southeast Discovery has been a trusted resource for candid information and insight on communities, developments, and general real estate in the Southeast. Through its highly-ranked web portal, newsletter and blog and its one-on-one work with clients, Southeast Discovery helps buyers actively looking for a retirement or second home in the Southeast navigate the process of identifying the right area and community for their needs. To learn more, visit http://www.southeastdiscovery.com/.