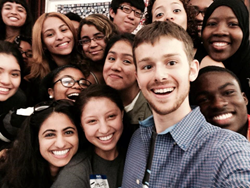 "This fundraiser is a great way to pay it forward this season and show how grateful we all are to have the opportunity to travel." - Stan Rosenberg, Trip of a Lifetime Founder
New York, New York, (PRWEB) December 18, 2014
Not everyone is lucky enough to travel, and even less have the opportunity to be immersed in a culture that is unlike their own. For those who have, their lives have been changed forever. When someone gets the opportunity to travel, wherever they may go, there is much more gained from the experience than just happy memories. Traveling is a way to learn about other cultures, experience how others live, and gain a broader perspective of the world.
Trip of a Lifetime is a non-profit organization that provides summer travel experience to underprivileged students who want to make a difference in their community. To date, the charity has sent forty four students from the New York City area and Westchester county on trips and is looking to send an additional 10-15 students on trips this summer.
This holiday season, Trip of a Lifetime is trying to raise $5,000, enough to provide scholarships for two additional students, through its online IndieGogo Fundraiser. As a thank you, Trip of a Lifetime is giving all donors exclusive perks, ranging from charity sweatshirts to holiday gift baskets curated by students themselves. As founder Stan Rosenberg puts it "while the holiday season is a great time to travel, there are many that can't simply afford these experiences. This fundraiser is a great way to pay it forward this season and show how grateful we all are to have the opportunity to travel."
For more information about the Trip of a Lifetime Holiday Drive, please visit http://www.bit.ly/TOALHolidayDrive