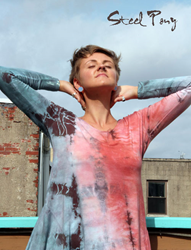 "Most Brands are all image in their retail environments. We hope to give our customers a better understanding of the value they are buying" - Joanne Litz
Philadelphia, PA (PRWEB) December 19, 2014
The New Year is around the corner and with it comes the ceremonial setting of New Years resolutions. For more than two decades the owners of Steel Pony, Joanne Litz and Dennis Wolk have promoted the virtues and pluses of buying products Made in the USA. For 2015 the husband and wife team have made a resolution to provide a cohesive understanding of "Slow Fashion" to their customer by creating a Left of Center lifestyle boutique that also blends their working Artist Studio for a Unique Shopping Experience.
The Clothing and Handbags they create has made their customers happy, comfortable and looking spectacular. When they decided to open a storefront, they realized having their studio accessible visually would help people have a deeper appreciation of the Art, Skill and Quality of what Steel Pony creates. "That is a fantastic opportunity for our clients and us as Artists". Explains Litz.
The Sustainable Movement
Right now consumers are being taught the importance of investing in products created by companies that provide transparency how their products are made. Consumers read labels to see where a piece of clothing has been made, to check the content for natural fiber versus synthetic and to seek out sustainable products. According to a Nielson study conducted in 2014, 42% of North Americans surveyed were willing to spend more for products and services that are committed to perpetuating a positive social and environmental impact. This mindset is most prevalent among Millennials (21-34) - 51% will pay more for sustainable products.
"Shoppers have begun to realize why their ten dollar tee from a big box store didn't last more than three washes before piling, fading or just falling apart. They care about how the people making what they wear are being treated. Educating consumers about what Slow Fashion really is what we are all about." – says Litz
The new location is nestled in the heart of Philadelphia's Fabric Row, located on 4th street. Stay connected to the company and follow the process of creating a new way of shopping by following them on Facebook. They hope to be opening before winters end.
About Steel Pony
All Steel Pony garments are Hand Dyed, Made in the USA and reflect a sustainable agenda. Join the growing conscious movement by supporting companies like Steel Pony at http://www.steelpony.com.