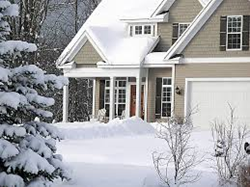 rates tend to bottom in February and rise thereafter.
Chicago, IL (PRWEB) December 18, 2014
Winter, typically a dismal time of year to purchase a home. However, Peoples Home Equity thinks otherwise, especially this year!
While home sales and prices fluctuate from relatively higher during the summer and lower during the winter, America's labor market is changing such that housing demand is on the rise. Yes, 2014 is no different than past year, home sales have fallen, prices have fallen, but more individuals are employed. Americans have had time to improve their credit score since the recession and now they are eligible for a home loan. Younger Americans are eager to purchase a home since paying a mortgage + association fees + property taxes + utilities is often less expensive than paying rent! Peoples Home Equity understands this changing labor environment and expects 2015 to be an incredible year for first-time home buyers.
One can already see the effects of strong housing demand regardless of seasonal weakness as the latest "National Home Sales Snapshot" from December 11th showed that weekly median home sales are 3.2% higher than last year. In addition, median home sale prices are also 2.3% above than of last year. Once should reflect on this year's seasonal strength think how well real estate may perform once the winter is over. If considering when to purchasing a property with a mortgage, note that rates tend to bottom in February and rise thereafter.
Mortgage Rates
Mortgage rates are at historic lows; Mortgage New Daily showed that today, 30-year fixed rates closed at their second lowest level of 2014, 3.82% (they were 3.8% on Dec'16th) One would be throwing away a great opportunity to lock in a low mortgage now before the Federal Reserve intentionally raises is core rate, subsequently leading lenders across the US to raise their rates. Yes, the Federal Reserve stated on Wednesday, December 17th that it remains "Patient" regarding its intent to raise rates in the future, but the event will happen. One should not think they have much time to lock in a great rate before home prices are increasing.
Home price
Home prices are rising and Peoples Home Equity expects them to continue rising, especially once the winter is over.
The combination of seasonal winter weakness, low mortgage rates, and a strong trend in rising property values should be enough to encourage those thinking to purchase a home to at least apply for a mortgage immediately. Once the winter is over, spring and summer will bring high mortgage rates and higher real estate prices. Being pre-approved for a mortgage now enables prospects to search for homes based on how much they may borrow and make serious bids on any desired listings.
If in need of a mortgage, contact a Peoples Home Equity loan officer today at: 262-563-4026