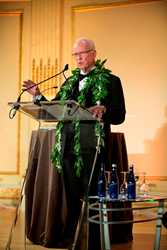 Arnie Weissmann, Travel Weekly's editor in chief said, "Richard Kelley's efforts have led to extraordinary results, not only in the state of Hawaii, but to the industry as a whole..."
WAIKIKI, HONOLULU, HAWAII (PRWEB) December 17, 2014
Dr. Richard R. Kelley, Outrigger Enterprises, Inc. chairman emeritus, has been honored by Travel Weekly magazine with its Lifetime Achievement Award. Travel Weekly is part of Northstar Travel Media group, one of the most influential news resources for the travel industry.
Kelley, whose remarkable career includes transforming Outrigger Hotels from a simple mom-and-pop business into Hawaii's largest locally owned lodging company and a well-known international brand that spans eight countries, was selected for his significant and lasting contributions to Hawaii's hospitality industry as well as his leadership in the business community, particularly in the areas of education and health care.
Kelley's many contributions include bringing advanced technology to Outrigger Hotels, envisioning the growth of Outrigger Enterprises beyond Hawaii's shores, his 15-year campaign to develop a state-owned convention center for Hawaii, helping to secure a dedicated funding stream for the state's visitor industry marketing and promotion, numerous initiatives that highlight and quantify the tremendous economic value of Travel & Tourism to Hawaii's economy, and supporting major revitalization of Waikiki's aging infrastructure.
In addition to his lifelong focus on Outrigger Enterprises and Hawaii's Travel & Tourism industry, Kelley has involved himself with many community and business initiatives within and outside the state. He has been a serial entrepreneur and lead investor in several small- to mid-sized businesses. He has worked tirelessly with government, labor and industry leaders. Passionate about education, he has advocated for improving the quality of both public and private education. Additionally, he has provided a leadership voice on health care reform and other initiatives.
The award was announced to a capacity crowd representing all branches of the Travel & Tourism industry – hotels and resorts, airlines, cruise lines, auto rental companies, tour operators, theme parks, destinations, and others – on Tuesday, Dec. 16, at Travel Weekly's annual Readers' Choice Gala Awards Dinner at the Plaza Hotel in New York City.
The Travel Weekly Lifetime Achievement Award, first presented in 2003, honors members of the industry who have consistently demonstrated leadership and insight, profoundly changing for the better not only their own companies, but the industry as a whole and whose careers have provided a model of vision and accomplishment for tomorrow's leaders.
Arnie Weissmann, editor in chief for Travel Weekly, presented the award to Kelley and said, "Richard Kelley's efforts have led to extraordinary results, not only in the state of Hawaii, but to the industry as a whole. His remarkable career and many achievements, including his exemplary service to others, make him especially deserving of this prestigious award."
The honor represents the pinnacle of achievement in the industry and places Dr. Kelley in the company of such all-time Travel & Tourism greats and previous Lifetime Achievement Award winners as his friend Bill Marriott (Marriott International chairman), Gordon Bethune (former Continental Airlines chairman and CEO), Richard Anderson (Delta Air Lines CEO), Richard Fain (Royal Caribbean Cruises chairman), Tim and Nina Zagat (co-founders and co-chairs of Zagat Survey), Marilyn Carlson Nelson (Carlson Companies) and Arthur Tauck (Tauck Tours).
In addition to Travel Weekly's Lifetime Achievement Award, Kelley has received countless other honors, including the Legacy in Tourism Award from the University of Hawaii's School of Travel Industry Management, the Pacific Business News Lifetime Achievement Award, the 'O' in Life award from the Punahou Alumni Association, the Ihe Award from the Hawaii Army Museum Society, and Sales Person of the Year from Sales and Marketing Executives International - Honolulu chapter for his accomplishments in selling Hawaii to the world.
Kelley credits his lifetime of accomplishments – service to the community and helping to improve the lives of others – to consistent efforts to live by his strongly held personal values: integrity, responsibility, loyalty and hard work. Above all, he considers his most important accomplishment to be his family – seven children, 13 grandchildren and three great-granddaughters. Kelley currently resides in Denver, Colorado with his wife of 35 years, Linda Van Gilder Kelley.
-30-
About Outrigger Enterprises Group
Outrigger Enterprises Group is one of the largest and fastest growing privately held leisure lodging, retail and hospitality companies operating in the Asia Pacific, Oceania and Indian Ocean regions. As part of its unique hospitality offering, the values-based company extends exceptional hospitality and authentic cultural experiences, incorporating local traditions and customs into the guest experience at each of its properties worldwide. Guided by more than 67 years of family leadership, Outrigger runs a highly-successful, multi-branded portfolio of hotels, condominiums and vacation resort properties, including Outrigger® Resorts, OHANA® Hotels and Resorts, Embassy Suites®, Holiday Inn®, Best Western®, Wyndham Vacation Ownership® and Hilton Grand VacationsTM. Currently, Outrigger operates and/or has under development 45 properties with approximately 11,000 rooms located in Hawaii; Australia; Guam; Fiji; Thailand; Mauritius; Maldives; Vietnam; and Hainan Island, China. For online information, log on at http://www.outriggerenterprisesgroup.com and http://www.outrigger.com.
Join Outrigger's social network to Find Out. Find Outrigger! Follow @OutriggerResort on Twitter or become a fan on Facebook at http://www.facebook.com/OutriggerResorts. For ongoing news, visit http://news.outrigger.com.
About Travel Weekly
Travel Weekly, the national newspaper of the travel industry, is the most influential provider of news, research, opinion and analysis to the North American travel trade marketplace. In addition to a weekly print publication, TravelWeekly.com, updated several times daily, is the most-visited industry website. Travel Weekly is a division of Secaucus, New Jersey-based Northstar Travel Media, the largest travel business-to-business travel publisher in the world.
###
Note: Outrigger Resorts is sensitive to and understands the importance of diacritical markings. In mediums where the reproduction of these markings is true (i.e., in print), diacritical markings will be used. If a communication crosses several mediums to include the Web, which does not always reproduce diacritical markings correctly, diacritical markings will not be used.