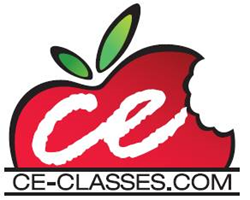 Training professionals to help people is our mission.
Fort Lauderdale, FL (PRWEB) December 18, 2014
CE-Classes.com has announced the addition of a new online course – DSM-5 Overview and Substance Abuse. This course on the DSM-5 is designed for healthcare providers who do clinical work - substance abuse counselors, social workers, professional counselors, psychologists, nurses and doctors.
"This is a very timely course. Insurance companies are beginning to require the DSM-5 diagnostic codes be included with the submission of their bills. We are happy to provide this training to professionals in the mental health field" said Ron Black, president of CE-Classes.com. "Training professionals to help people is our mission."
The online course summarizes many of the changes from the DSM-IV to the DSM-5. The American Psychiatric Association (APA) developed the original Diagnostic and Statistical Manual of Mental Disorders (DSM) to create a uniform way to define mental health disorders. The DSM publications have been the industry standard for clinicians, researchers, and insurance companies, since the first version was originally published in the early 1950s. The latest edition, the DSM-5, was published in 2013. The purpose of the DSM-5 is to provide the criteria for the diagnosis and treatment of mental disorders and it is used by mental health and healthcare professionals throughout the world.
This material includes changes to the organizational structure of the manual with a focus on diagnosis and substance abuse. The discussion also includes a section on cultural formulation and new assessment measures. There is a widely held consensus in the field that culturally sensitive practice is essential for effective and ethical treatment. As a result, it is critical that culture is included in the assessment, diagnosis and treatment planning of all clients.
The DSM-5 Overview and Substance Abuse highlights the significant changes to the substance use disorder. The current view is that substance use exists in a continuum, from mild to severe. Another change is the reclassification of some substance disorders. For example Amphetamine and Cocaine Disorders are now reclassified into Stimulant Disorders. The chapter now includes gambling disorder as the sole condition in a new category on behavioral addictions.
About CE-Classes.com
CE-Classes.com is committed to helping individuals earn continuing education credits in the most efficient, easiest and most cost-effective way possible. For over 15 years, CE-Classes has provided online courses, live seminars and webinars that are approved for various health care professionals for continuing education credits by a number of state and national boards and also serves a wide range of licensed professionals such as mental health counselors, therapists, psychologists, nurses and social workers. Individuals are given the option to choose between purchasing one or two courses or the Unlimited Online Courses Package for a year.
CE-Classes.com possesses multiple approvals such as American Psychological Association (APA), Association of Social Work Boards (ASWB), National Board for Certified Counselors (NBCC) and National Association of Alcoholism and Drug Abuse Counselors (NADACC). The courses offered are accepted nationwide.