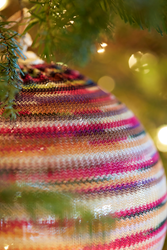 'We have been building a relationship with Missoni for years,' says Four Seasons Resort Maui's General Manager Jean Claude Wietzel. 'We consider it a privilege that they have entrusted us with these very special Missoni family keepsakes for the season.'
Wailea, Maui, Hawaii (PRWEB) December 18, 2014
This holiday season, Missoni, one of the most revered names in fashion design, will be celebrating at Four Seasons Resort Maui at Wailea with a one-of-a-kind Missoni Christmas tree and an exclusive pop up shop, now through January 3rd, 2015. Missoni, retailer Seaside Luxe, and the Resort have collaborated to create Missoni spaces around the property that represent the unmistakable style and values imbued in every Missoni collection.
The acclaimed fashion house, founded in 1953 by Ottavio Missoni and his wife, Rosita, has provided the Resort with vintage ornaments from the family's personal collection – all crafted from the brand's signature knit fabrics - to decorate the Resort's stately 15-foot Christmas tree. "We have been building a relationship with Missoni for years," says Four Seasons Resort Maui's General Manager Jean Claude Wietzel. "We consider it a great privilege that they have entrusted us with these very special Missoni family keepsakes for the season."
The tree reflects the rich history and vibrant culture of Missoni, a company that has been family-run for over sixty years and which has come to epitomize the best of Italian luxury. The tree, which is the only luxury-brand themed tree on the island and the only one of its kind in the world, is located in the luxury Resort's open-air lobby and is open to the public for viewing.
Also stationed on the lobby level, an 800 square-foot pop shop will pay tribute to the iconic, colorful world of Missoni. The "flagship pop up store" will be the first in the brand's history and will house Missoni women's wear, men's wear, beachwear, children's wear, and merchandise from the Missoni Home collection. Four Seasons Maui Missoni exclusives also will be available for a limited time. Guests, visitors and locals are invited to stop by the shop to enter to win the ultimate holiday gift, a hand-loomed cashmere Missoni throw, valued at $1,100.
In addition to the Christmas tree and pop up shop, two Luxury Cabanas at the Resort's renowned Serenity Pool have recently been re-outfitted in Missoni Home décor. Every detail of the Resort's Missoni holiday will be curated by the design house in collaboration with Seaside Luxe to create a unique experience for Four Seasons Maui Resort guests and visitors.
For more information about Four Seasons Resort Maui, call 1-800-334-MAUI (6284) or visit Four Seasons Resort Maui's
24-hour on-site reservation specialists.
Maui's first and only Forbes Five-Star resort is nestled on 15 acres of the breathtaking Wailea Coast. The 380-room oceanfront property is world-renowned for its comfortable opulence, impeccable service, luxurious amenities, and for living in harmony with its environment and community. The resort in Maui is also home to one of the nation's top-rated spas committed to wellness and three of Hawaii's most acclaimed restaurants - Ferraro's Bar e Ristorante, Spago Maui and DUO, a premium steak and seafood restaurant. This sophisticated home away from home caters to the needs and interests of all generations offering world-class activities and one-of-a-kind Unforgettable Events, a museum quality art collection, three pools overlooking the azure-blue Pacific Ocean including an adults-only Serenity Pool with exclusive Missoni-designed cabanas, and more. Four Seasons Resort Maui is a Hawaiian vacation destination geared to action adventurers, those guests wishing to practice the fine art of doing nothing at all, and everyone in between.
Media Contact: Charlotte Novom | Novom Marketing, Inc. | 714.941.9799