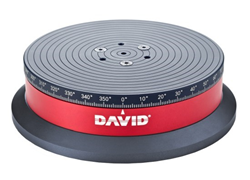 A fantastic turntable for precision 3D scanning with the DAVID Vision Structured Light Scanner (SLS-2)
Santa Clara, California (PRWEB) December 19, 2014
Growshapes, the leading reseller of innovative and low cost 3D scanning solutions by DAVID Vision, announces the launch of 2 new products in the US market.
The new motorized DAVID turntable (DAVID TT-1) enhances precision scanning using the DAVID Vision's structured light 3D scanner (DAVID SLS-2). The DAVID TT-1 turntable controlled by DAVID software, turns at precise angles set by the user. The scanned surface data is fused automatically by DAVID software perfecting the 3D scan.
Geoffrey Doyle, founder of Growshapes, says, "No other scanning manufacturer has such a complete and automated structured light scanning system on the market at a very affordable price. Customers have been asking for a motorized turntable and we have reported this back to DAVID Vision. Growshapes customers will be very happy when they receive the DAVID TT-1 turntable."
DAVID Vision is also making forays into opening up its software to developers with the launch of the DAVID SDK. Doyle says, "We are excited developers will soon be able to access the incredible DAVID software and use it to create their own 3D scanning solution. 3D scanning is really going to come alive in 2015 and DAVID Vision is leading the way for great technology with a very customizable system that is affordable and quick to learn."
For availability and pricing in the U.S., please go to http://www.growshapes.com
About Growshapes
Growshapes is a Silicon Valley company that helps companies bring their visions to life in physical form as well as in digital form. Growshapes is the US Authorized Reseller for DAVID Vision Systems GmbH 3D scanners and software as well as Mcor Technologies' True Color paper 3D printers, the Afinia H-Series 3D printer and netfabb GmbH dedicated 3D printing software. For more information, visit http://www.growshapes.com.
About DAVID Vision Systems
DAVID Vision Systems GmbH, located in Koblenz and Braunschweig, Germany was founded in 2009 as a spin-off company of the Institute for Robotics and Process Control at TU-Braunschweig. DAVID Vision focuses on developing inexpensive and flexible hardware and software solutions for optical 3d surface acquisition.