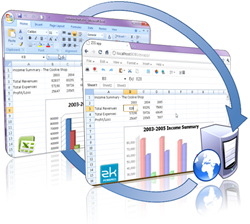 The most compatible web-based spreadsheet to Microsoft Excel.
London (PRWEB) December 19, 2014
ZK Team has announced the release of ZK Spreadsheet 3.6 under an open source license enabling developers to embed Excel functionality within their Java based Ajax web applications. Since its debut in February 2008, ZK Spreadsheet has become a mainstay in developer's toolkits obtaining favourable reviews around the world.
ZK Spreadsheet enables Ajax applications to deliver rich online spreadsheet functionality within browsers using pure Java without the need to install Excel or applets on the server or client. With the ability to include Excel functionality in any web page, developers are able to create collaborative and dynamic enterprise applications at minimal cost. ZK Spreadsheet is also currently the most compatible web-based spreadsheet to Microsoft Excel in the market.
The latest ZK Spreadsheet 3.6 series 6 focuses on enhancing formula evaluation, support for rich text editing and PDF exporter enhancement including various formats and printing parameters. Version 3.6 also introduces a few more new features and bug fixes to increase user experience including but not limited to:

Provide control to avoid unnecessary auto update on setXxx()
Support API for input rich text
Provide a richtext editor for inline cell styles
Cache formula parsing results
"ZK Spreadsheet is an open source solution providing effortless Excel integration with Java based Ajax applications and enables rapid development and extensive control of large data driven applications" stated Henri Chen, VP of Engineering, "That's one of the main reasons many critical projects rely on ZK Spreadsheet"
Download ZK Spreadsheet for free
Live Demo
About Potix
Potix Corporation develops and supports ZK, the #1 Java based Ajax solution on SourceForge.net, the world's largest open source host. Innovation is the most driving force behind the growing Potix. Potix delivered the first Ajax framework to support Java and Android phones, the first embeddable Ajax spreadsheet, and the first to synergize the power of pure Java, markup and scripting languages.
ZK has more than 1,500,000 downloads since its first release in late 2005. ZK is deployed by a large number of Fortune Global 500 companies, including Barclays, Societe Generale, Swiss RE, eBay, Roche, Deutsche Bank, Sony, Sun Microsystems, Audi, EMC and Toyota, providing them with the ability to rapidly create rich Ajax enterprise level applications.