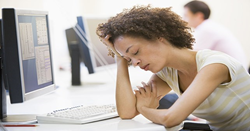 The answer remains the same, parents need to be more vigilant with their teens when it comes to suicidal tendencies without invading their teen's privacy or hurting their feelings.
London, UK (PRWEB) December 18, 2014
With all the cyberbullying and teen suicides appearing in the news lately, every parent is concerned and wonders if their teen is depressed or suicidal. There is nothing scarier than finding out one's child is depressed, except finding out when it is too late to do something about it. Answering the question why do young people commit suicide is hard and the news and numbers related to suicide in 2014 are more conflicting than ever. NoBullying investigates the numbers on suicide in 2014 in a series of articles in the spotlight this week.
Often, teens keep their fears, sadness, loneliness and worries to themselves or will only discuss them with their close friends. Many of the signs they show indicating they might commit suicide are attributed to typical rebellious teen behavior. Other times the answer lies in the mental capacity of the teen which might not show in full in day to day interactions.
Understanding why people commit suicide and what is causing the need for such drastic measures may help parents prevent a suicide attempt before it happens. One way to find out if a modern day teen is depressed or suicidal is to look at their search engine history on their computer. Search items like "Why People Commit Suicide", "I want to die" or "How to kill yourself" are major indicators of suicidal tendencies even in cases of assisted suicide.
The Center for Disease Control ranks suicide for people 10 years and older as the 10th leading cause of death in the United States with over 4,000 young people committing suicide each year. It is the cause. While suicide rates were on the decline since the early 2000s, they have since increased in volume, according to this source published by the CDC in 2014.
There are many reasons why people commit suicide including mental health issues such as depression and bullying. Many teens who have tried to commit suicide, but failed, said they just wanted to get out of a bad or difficult situation and dying felt like the only way. Some teens experience overwhelming or difficult emotions such as guilt, rejection and loss or they feel unloved and not accepted. The truth remains that every year more teens attempt or commit suicide and see no way out of their misery. It is about time the international community stood up to suicide.
Ciaran Connolly, Co Founder of NoBullying says "The answer remains the same, parents need to be more vigilant with their teens when it comes to suicidal tendencies without invading their teen's privacy or hurting their feelings."
He added that parents and teachers should make a point to educate the younger generations about the sad outcome of all kinds of violence and bullying. According to Connolly, it is quite imperative to press for more firm laws condemning all acts of bullying and harassment.
NoBullying.com features many pages dedicated to parents, teens, teachers, health professionals as well as posts related to cyber safety and the latest news about law making concerning curbing Cyber Bullying worldwide as well as inspirational Bullying Poems and famous Bullying Quotes.
The website regularly updates its bullying statistics and cyber bullying statistics as it is essential to understand how widespread the bullying epidemic is. It also regularly runs cyber bullying surveys and questionnaires to get recent updated statistics on everything related to cyberbullying.
He also added that anyone suffering from bullying in any form or way can always find advice and help on the NoBullying website – but if anyone is suffering from severe bullying or cyber bullying, the best thing is to talk to someone locally – a parent, teacher or local organization that has been set up to help with specialized councilors to deal with this topic.