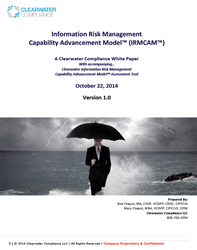 We created this tool because we… knew that organizations needed a more systematic and scientific way to assess, measure and improve their capabilities for protecting sensitive data."
Nashville, TN (PRWEB) December 18, 2014
Clearwater Compliance today launched a BETA trial for its Information Risk Management Capability Advancement Model Index™ (IRMCAMi™), offering this new assessment tool for free to a select group of organizations.
Clearwater recently unveiled its Information Risk Management Capability Advancement Model™ (IRMCAM™), an extensive, proprietary framework that guides organizations as they shape their information privacy, security, compliance and risk management programs. The IRMCAMi is a web-based survey instrument that complements Clearwater's "Clearwater Information Risk Management Capability Advancement Model™ (IRMCAM™) White Paper" and helps organizations better understand where they land on the maturity spectrum and how their current program compares to industry best practices.
The IRMCAM white paper and accompanying index are keystones in Clearwater's expansion of their tools and services to bridge the gap between "checklist" compliance and more robust information risk management programs. Clearwater's focus in this area is in direct response to the changing healthcare landscape that continues to apply increased pressure on organizations to more comprehensively operationalize their information privacy, security, compliance and information risk management efforts.
Invitations to participate in the IRMCAMi trial are being sent to a pre-defined group of organizations. Additionally, Clearwater is accepting inquires from organizations that would like to be considered for the BETA. Interested parties can send an email to bob(dot)chaput(at)clearwatercompliance(dot)com to begin the application process.
"We are very excited to be launching the IRMCAMi and helping organizations objectively measure and advance their information risk management practices," said Bob Chaput, CEO and founder of Clearwater Compliance. "We created this tool because we saw a gap in the industry, and we knew that organizations needed a more systematic and scientific way to assess, measure and improve their capabilities for protecting sensitive data."
The IRMCAMi examines five key information risk management areas:

Governance, Awareness of Benefits and Value
People, Skills, Knowledge & Culture
Process, Documentation, Discipline & Repeatability
Use of Standards, Technology Tools/Scalability
Engagement, Delivery & Operations
Decades ago, the software industry saw the introduction of the Capability Maturity Model Index (CMMi) through joint efforts by Carnegie-Melon University and the US Government in an effort to improve software development processes and end-results. More recently, we've seen the introduction of HIMSS Analytics' Electronic Medical Record Adoption Model (EMRAM(sm)) aimed at measuring adoption / maturity in the implementation of electronic health records systems.
In each practice area, participants respond to a series of relevant questions and immediately receive results by practice area, in addition to an index score that rates the overall level of maturity of their risk management program.
The index score is designed to help organizations better understand best practices, benchmark against industry averages, identify specific areas of improvement and initiate a discussion on where the organization aspires to be. At that point, action plans can be developed to improve their information risk management capabilities toward an established goal.
Interested organizations can click here to express interest in participating.