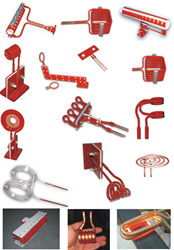 (PRWEB) December 19, 2014
DW-InductionHeating.com is a leading company in the field of induction heating. Recently, the company has introduced its high quality induction heating coil collection.
The induction coil collection comes in hundreds of shapes, sizes, or styles. The business claims that they can provide whatever induction coils customers need at very competitive prices. The most popular models include pancake coils, helical coils, concentrator coils and more. They can be square, round or rectangular in shape.
The company puts much emphasis on coil efficiency, and it understands that the main characteristics of transformers are useful in the development of guidelines for coil design. Besides, heating pattern, part motion relative to the coil, and production rate are the important points when the company designs a coil.
According to the senior engineer of DW-InductionHeating.com, the design of induction heating coil for induction heating is built upon a large score of empirical data. The coil should be coupled to the part as closely as possible for maximum energy transfer, so that the largest possible number of magnetic flux lines can intersect the piecework at the area to be heated.
He says, "Our coils are designed to prevent cancellation of the magnetic induction heating field. They can heat a conducting material easily. Because the heating pattern reflects the coil geometry, conductor shape is probably the most important in a design of an induction coil. All our designs are popular in the global market, and this is why we can make a great success in the past few years."
About DW-InductionHeating.com
DW-InductionHeating.com is a well-known online supplier of useful magnetic induction heater. It has been a comprehensive high-tech business specializing in designing, researching and developing, producing and marketing of a series of machinery equipments. The aim of the company is to create practical induction heating equipments to help people enhance the level of life.
For more information about the company's latest products, customers can just visit: http://www.dw-InductionHeating.com