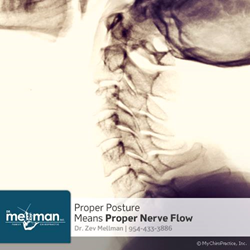 Your spine is the foundation for strength and health in your body.
Pembroke Pines, FL (PRWEB) December 19, 2014
DC and owner of the Pembroke Pines Mellman Chiropractic Spinal Hygiene Center reveals a new video on health and the importance of spinal hygiene. This video will go thru concepts that are very unique and different and highlight key research clearly showing the need to address the spine and posture.
According to a recent study published on Pubmed pain is the most common presenting problem in primary care. Drug therapy for pain and discomfort has increased dramatically over the past decade, and with it have come negative outcomes. Prominent Chiropractor Dr. Zev Mellman says: "People in our community are getting tired of masking their problems and treating them at random with expensive medical procedures." Dr. Mellman goes into further detail in his blog post titled Pembroke Pines Chiropractor: Eliminate Your Health Issues Today
The concept of hygiene dates back to the early 1900's. Dr. Alfred Fones who is coined the "father of dental hygiene" recognized that their was a glaring void regarding dental health. Out of pure frustration with having to pull so many teeth, he began to ask a better question. Dr. Fones was convinced that tooth decay could be prevented with daily dental hygiene. Spinal hygiene is vitalistic and is based around the premise that our spine and nerve system are self-developing, self-maintaining, and self-healing and what we need to do is support the natural process rather than always trying to override it.
Dr. Mellman adds: "In our office, we start with that premise and understand that if you damage your nerve system by damaging your spine than the body doesn't work right. However, by correcting these spinal stressors and removing these interferences, the body begins to re-establish its own normal and natural state which is what was intended to be."
"Your spine is the foundation for strength and health in your body. A lack of upkeep in this area and your spine will weaken causing stress and tension to your body and could accelerate the emotional feelings of physical aging faster than normal."
If you would like more information regarding spinal hygiene and highly rated Chiropractic care in Pembroke Pines, FL then take a look at Dr. Zev Mellman's Chiropractic Spinal Hygiene Centers website here.
Dr. Zev Mellman and his team provide individualized corrective based Chiropractic care at their spinal hygiene oriented office off Pines blvd in Pembroke Pines, FL. Meanwhile updates and company news can be found on the Mellman Chiropractic Facebook page and their various social media accounts such as Google Plus.