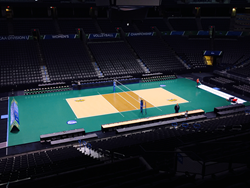 "Sport Court is pleased to again provide the Official Court for the NCAA Division 1 Women's Volleyball Championships," said Ron Cerny, Connor Sport Court International CEO
Salt Lake City, Utah (PRWEB) December 18, 2014
Connor Sport Court International (CSCI)'s Sport Court® brand is the Official Court Supplier for the 2014 NCAA Division I Women's Volleyball Championships Dec. 18 & 20 at Chesapeake Energy Arena in Oklahoma City, OK.
The unique court for the championships will feature a striking blend of Sport Court's Dark Maple Select™, Maple Select™ and Pearl Evergreen™ products and a replica of the court will located in the arena main concourse entrance for fans to experience the high-quality surface that the championships will be played on.
"Sport Court is pleased to again provide the Official Court for the NCAA Division 1 Women's Volleyball Championships," said Ron Cerny, Connor Sport Court International CEO. "The 2014 championship court represents another step in our continued effort to help grow the sport of volleyball and we believe the players will enjoy both the safety and resilience of the premium quality court and also the striking design that will be seen nationally on ESPN2."
Sport Court has been a partner of the NCAA as Official Court Supplier for more than 20 years and also provides the official courts for all levels of the NCAA Volleyball Championships representing more than 50,000 square feet of surfaces including the Division II, Division III and all Division I tournament competition including the Regional sites.
"Sport Court has provided the NCAA and its student-athletes with a product that reflects top level quality, innovative design and court safety for many years," said Keith Martin, NCAA managing director of championships marketing and alliances. "We're pleased with Sports Courts' support of the NCAA and our volleyball championships."
About Connor Sport Court International (http://www.connorsportcourt.com)
Sport Court® is a registered trade mark of Connor Sport Court International. It is used to identify the original and authentic modular sport surfaces developed and continuously improved since they were introduced in 1974. Sport Court has built systems for many elite associations including the NBA, NCAA, FIBA, USATF and USA Volleyball and have appropriate solutions for every type of athletic, park or multi-use facility.
About the NCAA (http://www.ncaa.org)
The NCAA is a membership-led nonprofit association of colleges and universities committed to supporting academic and athletic opportunities for more than 460,000 student-athletes at more than 1,000 member colleges and universities. Each year, more than 54,000 student-athletes compete in NCAA championships in Divisions I, II and III sports. Visit http://www.ncaa.org and http://www.ncaa.com for more details about the Association, its goals and members and corporate partnerships that help support programs for student-athletes.