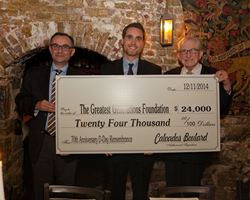 Philadelphia, PA (PRWEB) December 19, 2014
The Calvados Boulard Distillery, leading producer of authentic Norman Calvados, presented a collector's edition bottle—developed in honor of the 70th anniversary of D-Day—to Alexander Eisenhower, great-grandson of Dwight D. Eisenhower, the Commander in Chief of the Allied Forces at the time of the Normandy Invasion.
The Boulard distillery produced 15 commemorative "Cuvée Ike" bottles from carefully guarded reserves in the family archives—11 were sold at the Maison Artcurial Auction House this June, raising a total of $24,000. Vincent Boulard, 5th generation family operator of the Boulard Distillery, presented the proceeds from the sale of the bottles to the Greatest Generations Foundation, received by national spokesperson Dr. Bruce Heilman. The presentation took place on Thursday, December 11th at Bistro Romano in Society Hill, Philadelphia.
"We are honored to take part in remembering those who served the Allied Forces during the Second World War, especially during the holidays in the spirit of giving," said Vincent Boulard. "It's an honor to be with Mr. Eisenhower to remember his great-grandfather and the history of his relationship with our distillery."
Included in the ceremony was iconic French clothing manufacturer Tricot Saint James, whose headquarters sit on a converted WWII airway. The company unveiled a steel model of a jet wing to commemorate the landing of aircraft A29 of the 9th Air Force in Normandy on June 6th, 1944. Two of the builders, DGC Communications and Enseignes François, donated their time and services to build the monument, allowing Saint James to generously purchase a Calvados Boulard Ike bottle in the auction.