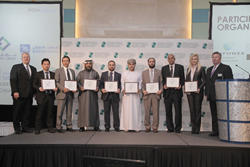 It is a great example of how the government and private sector in the UAE and the U.S. can team up and learn from each other. It will help in the advancement of district cooling, renewable energy and energy efficiency across the region.
(PRWEB) December 18, 2014
The International District Energy Association (IDEA) held the 2014 IDEA International District Cooling Conference titled "Cleaner Energy, Greener Cities", in Dubai, UAE Dec 14-16 under the patronage of HH Sheikh Ahmed Bin Saeed Al Maktoum, Chairman of Dubai Supreme Council of Energy and Chairman and Chief Executive Officer of Emirates Airlines and Group. The conference, hosted by Emirates Central Cooling Corporation (Empower), concluded with recognition of 8 regional district cooling providers for collectively avoiding 1,500,000 tonnes of carbon emissions annually and a tour of state of the art district cooling plants owned by Empower.
The international conference focused on how major district cooling systems operate more efficiently and conserve both electricity and water. The program also tackled operations, maintenance, efficiency and optimization of district cooling and stressed the importance of optimizing district chilled water systems and achieving efficient optimized district load and storage distribution.
Day one of the conference featured the signing of a strategic memorandum of understanding (MOU) between Empower Energy Solutions and Johnson Controls, Inc on their intent to collaborate on deployment of a cooling tower technology pilot program that can reduce water consumption and optimize electricity efficiency. Ahmad Bin Shafar, CEO of Empower and James Furlong, Vice President, Johnson Controls signed the MOU under the view of HE Mohammad Saeed Al Tayer, CEO of Dubai Electricity and Water (DEWA) and Vice Chair of Dubai Supreme Energy Council. The federal governments of the United States of America and the United Arab Emirates both were on hand to support and recognize the important initiative.
US Consul General Robert Waller applauded the parties for their collaboration and recognized the leadership of UAE for investing in district cooling as an environmentally sound energy strategy. Her Excellency Fatima Al Foora Al Shamsi, Assistant Under Secretary for Electricity, Clean Energy and Desalinated Water at the UAE Energy Ministry commented on the importance of energy efficiency and water conservation to a more sustainable economy, especially in the Gulf Region. Katrina Pielli from the US Department of Energy in Washington, DC commented on the importance of public private cooperation and technology RandD to tackle the growing challenges of the energy and water nexus. Ms. Pielli said, "It is a great example of how the government and private sector in the UAE and the U.S. can team up and learn from each other. It will help in the advancement of district cooling, renewable energy and energy efficiency across the region."
Day one was also marked by an Industry Leadership Panel of chief executive officers from the larger district cooling systems in the region, including: Ahmad Bin Shafar, CEO, Empower; Jasim Thabet, CEO, Tabreed; Edward McNally, CEO, Tabreed Oman; Adib Moubadder, CEO, Emicool; and Ahmed Shehadeh, CFO and Acting CEO, Qatar Cool. Collectively, their systems represent approximately 2.4 million tons of cooling capacity and are critical infrastructure assets in their respective communities. The discussion centered on the importance of proper planning and customer integration; essential investments in efficiency and training; and key strategies to manage growth and drive stakeholder value.
Day two of the conference included a signature business development and financing panel including senior executives from global and regional financial institutions who shared their perspective on the potential for growth in the district cooling industry. Discussion centered on valuation of the district cooling industry; tolerance and assessment of risks in underwriting debt financing; opportunities for expansion and strategies for funding that growth. In general, the finance panel characterized the regional district cooling industry as robust, mature and poised for growth, with potential for further consolidation.
The participants said that the growing confidence of the banks in financing district cooling projects stems in part from regional governments' commitment to the growth of this industry. IDEA President and CEO, Rob Thornton said, "The UAE government in general, and Dubai government specifically, have ambitious plans to increase the deployment of district cooling as it forms a crucial component of the regional energy strategy. Because district cooling systems operate at much higher efficiencies than conventional air conditioning, they can reduce both demand and consumption of electricity. And because of the scale and sophistication of district cooling plants and operations, they are able to better optimize water conservation strategies such as using treated sewage effluent (TSE) and condensate recovery that would not be feasible on a single building basis."
Another important panel featured local and global regulatory experts who discussed goals, key issues and potential approaches to regulation in the context of new district cooling regulations under consideration in a few countries. Industry leaders were urged to develop more uniform standards of service, as often cited in the United States, the world's most mature district cooling market. Further discussion called for transparency, customer education and information exchange.
At the concluding luncheon, eight district cooling companies were collectively recognized for the industry's reduction of carbon emissions. Based on comparative cooling system efficiencies, annualized aggregate cooling output and the conditions of the regional electricity grid, the eight participants accounted for 1,500,000 tons of carbon mitigation last year. Those participants included Empower Energy Solutions, Emicool, Tabreed, Tabreed Bahrain, Saudi Tabreed, Qatar Cool, Marafeq, and Tabreed Oman.
The conference concluded with attendees able to attend technical plant tours of Empower's Business Bay and Dubai International Financial Centre (DIFC) plants and a conducted tour for prominent delegates from the international district cooling industry of Empower's new state-of-the-art Command and Control Centre (CCC) in Dubai.
As host of the International Conference, Empower CEO Bin Shafar said that inviting prominent members of the district cooling industry to tour the company's state-of-the-art CCC was an opportunity to showcase Empower's continued investment in best practice and cutting edge technologies. As a central control room for 57 district cooling plants across Dubai, the CCC is able to monitor, operate, optimize and identify a full range of parameters from the plant production cycle, to the distribution network, to the customer building interface, all the way down to the performance of individual air handlers in customer buildings. This kind of real time data management will allow Empower to finely tune operations, manage safety and optimize reliability, reduce operating costs and drive efficiency throughout the business, to benefit consumers as well as the environment.
Bin Shafar added: "Empower's CCC offers a 360-degree view of all activities in 57 plants, including operations that ensure the efficiency of its cooling towers and consumer consumption patterns. This investment represents a global first: more than one million parameter tags on a virtualized IT platform for the district cooling industry. We were pleased to share with our peers our success story through this project."
Thornton concluded, "Thanks to Empower, participants in the IDEA District Cooling Conference were able to go back home with extensive knowledge across a range of technologies and best practices related to district cooling. Additionally, our conference included an exhibit hall featuring many of the world's leading companies and emerging technologies in piping, meters, production, water treatment and valves as well as industry experts in financing, designing, operating and maintaining high performance district cooling networks."
Bin Shafar pointed out that the conference has enabled Dubai to share with the world the story of how its district cooling schemes are being operated and how they could serve as a model for other countries of the world. "The Middle East has rapidly developed into a major hub for district cooling. Empower is lending our support to advancing the global district cooling sector through our involvement in IDEA and playing the principal host of this conference is evidence of our worldwide commitment as part of Dubai's far sighted vision," Bin Shafar said.
The International District Energy Association (IDEA) is a nonprofit 501(c) 6 industry association founded in 1909 and governed by a 22-member Board of Directors. IDEA represents approximately 1800 members who are district heating and cooling executives, managers, engineers, consultants and equipment suppliers from 26 countries. Association members operate district energy systems owned by utilities, municipalities, hospitals, military bases and airports throughout North America and around the world. Visit http://www.districtenergy.org for more information.