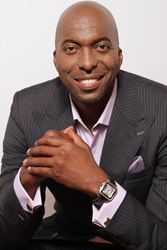 DL revAMP is not just a way to jump start a healthy lifestyle but get a taste of what vegan living is like. The 21-day Betta Life Vegan Detox challenge is a great way to stay happy and healthy this year and into 2015.
Oakland Park, FL (PRWEB) December 22, 2014
DL revAMP, the first USDA Certified Organic, plant based food detox delivery program has partnered with four time NBA champion and vegan wellness advocate, John Salley. Salley and DL revAMP have co-created a challenge called the DL revAMP / John Salley 22 Day Bettalife Challenge available now. As a firm believer in the benefits of the detox program, Salley has challenged his fans to join him in taking the 22-day vegan challenge alongside him.
"We're thrilled to partner with John Salley on the 22-Day Bettalife Challenge and have his fans reap the long term health benefits of DL revAMP," says Founder and CEO of DL revAMP Scott Harris. "DL revAMP's partnership with John Salley will help thousands of people make positive lifestyle changes that can have long lasting effects on their overall health and quality of life. DL revAMP makes it easy and convenient to transition to a vegan diet."
"Becoming vegan in 2006 changed my life," says John Salley. "DL revAMP is a great way to jump start a healthy lifestyle and get a taste of what vegan living is like. The 22-Day Bettalife Challenge will help kick start positive dietary habits going into 2015."
John Salley will challenge close to one million people from his fan base to take part in this program. Participants have the option to choose between a seven-day, fourteen day and twenty-one day DL revAMP plans. Each combination of the seven day Restart plan includes five days of raw and lightly cooked organic, plant based foods containing approximately 1,200 of only the best, nutritionally dense calories daily. The last two days of the 7-day plan will be a juice cleanse with specialty cold-pressed organic juices by OnJuice.
Handcrafted, gourmet creations are made fresh daily by DL revAMP's Detox Specialists and Raw Food Chefs, Alina Z and Mary Alice Graham. Matching power with productivity, DL revAMP uses all organic foods, nourishing the body with pure energy, allowing it to expel impurities and toxins that can slow the body down and cause weight gain.
DL revAMP is available for national delivery. Plans begin at $125 per day including shipping.
Corporate Headquarters: 4351 NE 12th Terrace in Oakland Park, FL
888-730-LEAN (5326) | http://www.DLrevAMP.com
About DL revamp
DL revamp is the first USDA Certified Organic, plant based, vegan detox program delivered nationwide. At the forefront of innovative health food programs, DeliverLean, South Florida based healthy gourmet meal delivery service, introduced DL revAMP in November 2014. DL revAMP bridges the gap between traditional food diets and liquid juice cleanses. A five day DL revAMP is delivered in two packages and includes eight menu items per day over the course of five days. All the meals are comprised of freshly made, organic, raw and lightly cooked vegan ingredients designed to detoxify internal organs and give the body a much-needed break from energy draining foods. The result is a healthier, more vibrant and invigorated body.