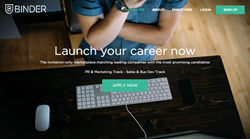 ...which can help job candidates show off their skills to targeted employers and attract attention from other companies...
New York, New York (PRWEB) December 19, 2014
Binder, a platform that specializes in connecting students and graduates with potential employers, recently launched a new website and started offering qualified employers and employees access to its auction-style marketplace. The website, which has been operational since September, aims to help employees bridge the gap between completing an education and finding a relevant job, which is a hurdle many students and new graduates face, since higher education does not always guarantee the real-world skills needed to impress employers. The platform offers online challenges, which can help job candidates show off their skills to targeted employers and attract attention from other companies, along with personalized notifications, which let students and graduates discover additional job opportunities. Students who do not find or secure their desired positions can also compete for internships located domestically or abroad. Binder's website and services offer distinct benefits for employers as well as job seekers, since hiring managers can easily compare how multiple job candidates perform on specific career-related tasks before making a hiring decision.
Students and graduates who visit the new website can create personal profiles through an easy interactive process before applying for acceptance into Binder's domestic or international marketplace; since Binder is an exclusive platform, all prospective employees are pre-screened based on the information provided in their applications and profiles. Students and graduates can use their profiles to showcase their backgrounds, including their educations, experience, and other credentials, while also highlighting their unique skills and personal goals. Once students are accepted into the marketplace, they can start browsing available jobs and vying for the attention of hiring companies. Employers, meanwhile, can visit the Binder website to set up their own accounts, create specialized questions and challenges that reflect real job-related tasks, and start identifying promising job candidates. Students and employers who are interested in learning more about Binder's services or setting up their profiles and finding a match can visit the new website at mybinder.io.
About Binder
Binder is an exclusive online platform and marketplace that helps qualified, carefully screened students and graduates find and secure internships or jobs around the world. The website's auction-style challenges let prospective employees distinguish themselves from other job candidates by demonstrating their job-related skills, rather than just writing resumes; this approach also lets employers effectively hone in on ideal job candidates. On average, 85 percent of the students and graduates who use Binder are successfully placed or hired within participating companies. To learn more about Binder and its services, please visit mybinder.io.