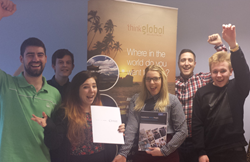 Our role is finding jobs for people, many of which are in the 'young' category and we feel it is important to invest in the people that will be shaping our future.
(PRWEB UK) 19 December 2014
Think Global Recruitment, the leading experts in international financial recruitment is the first specialist international consultancy to have achieved the Investors in Young People Accreditation, the only people management standard that focuses on an employer's recruitment and retention of young people. This represents a true commitment to the training and development of young people and demonstrates Think Global Recruitment as an employer of choice for young people.
Launched in July 2014, Investors in Young People originated through a key recommendation from the Commission for Developing Scotland's Young Workforce, led by Sir Ian Wood. The accreditation is offered to all businesses across Scotland and exists to recognise and support organisations across Scotland in the employment of young people.
Having now achieved the accreditation, Think Global Recruitment is now eligible to use and display the Investors in Young People logo and plaque, and enjoy its benefits.
Commenting on the award, Abigail Stevens, Managing Director of Think Global Recruitment said, "We are absolutely delighted to have been awarded as Investors in Young People. Young people are integral to our organisation. We are proud to bring them in at the start of their career and watch them develop new skills and progress their career. Our role is finding jobs for people, many of which are in the 'young' category and we feel it is important to invest in the people that will be shaping our future. Think Global Recruitment's vision is 'Improving Lives' and we aim to do this to everyone we work with including our team of young people."
Peter Russian, Chief Executive of Investors in People Scotland, said "This is a fantastic achievement for Think Global Recruitment, and I and the whole IIYP team would like to wholeheartedly congratulate them. The Investors in Young People framework not only recognises and supports organisations in the employment of young people, but marks them out as an employer of choice. I envisage that many more organisations will wish to follow in the footsteps of Think Global Recruitment and demonstrate their commitment to young people by working with the Investors in Young People framework."
He continued: "The benefits of recruiting and developing young people are countless. These include the creation of a talent pool for the future, new and increased skills in areas such as IT and social media, fresh eyes and mind-sets into business operations along with enthusiasm and unique talents."
About Think Global Recruitment

After identifying a global shortage and subsequent demand for Accountants, company founder, Abigail Stevens, launched Think Global Recruitment on 7 July 2000 in Edinburgh
Think Global Recruitment works with companies such: PwC, KPMG, Deloitte, EY, Schlumberger, Kerry, Coca Cola, TNT, Goldman Sachs and JP Morgan moving professionals from any country to any country
Think Global Recruitment has a vision of Improving Lives – the lives of everyone they work with including suppliers, charities, candidates, clients, staff and family
All members of the team are international experts and each person has experience working and living overseas
Ends
For more information on Think Global Recruitment please contact Emma Maloy: emaloy(at)thinkgr(dot)com or +44 (0) 131 260 58580
Or visit: http://www.thinkgr.com
Photographs of Think Global Recruitment's Young Team are also available