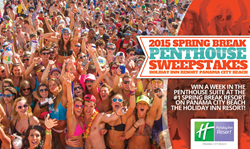 Panama City Beach, Fl (PRWEB) December 20, 2014
SpringBreakHQ.com has come through year after year with an incredible Spring Break vacation prize that students can win, and this year is no different! SpringBreakHQ.com has partnered up with the #1 Spring Break Hotel on Panama City Beach, The Holiday Inn Resort - as well as the hottest club on Panama City Beach, Club La Vela, to offer the Ultimate Spring Break Giveaway! This incredible prize includes a 5 night stay in the Penthouse Suite at the beautiful Holiday Inn Resort for the winner and 5 of their friends, breakfast for the whole crew each day of their stay in the resorts restaurant, The View, as well as Pizza vouchers and VIP passes to Club La Vela!
The Holiday Inn Resort is the most desirable place to stay on Panama City Beach all year long because they always do more for their guests -and they know how to cater to their audience. During Spring Break, this beachside resort transforms itself into the ultimate spring break destination with tons of entertainment, poolside DJ and Beach DJ, contests, lots of freebies from corporate sponsors, themed pool parties, and more! This place changes up practically everything just for the spring break guests - they extend their breakfast hours till noon for the late sleepers, offer a midnight buffet till 4am for those who come back from the club hungry, they work deals with the top club to offer free nights for their guests... it's easy to see why the Holiday Inn Resort is #1 year after year for spring breakers.
"Thousands of students come visit us for Spring Break year after year. It's a really high energy, fun event for both the students and the resort team. We love having the kids come down and have a great time at our hotel." Says Philip Colvin, Marketing Director of the Holiday Inn Resort. "Each year the crew over at SpringBreakHQ.com comes to us for a free stay in the Penthouse Suite so they can giveaway an incredible prize to one lucky winner - and we're always happy to make it happen! We know what an unbelievable experience the winner will have here and we know how hard some students work all year - not just with classes, but also in the workplace - to make their education a success, and we hope that winning this contest will be the well-deserved break for the lucky winner."
The contest started on December 15th at 12:01am and it's easy to enter! Just go to
http://www.springbreakhq.com/2015-spring-break-sweepstakes/ tab - then simply follow the prompts. The contest ends January 18th at midnight and the winner will be announced Monday, January 19th. Best of luck to all who enter, and while many will enter there can only be 1 winner. For official contest rules visit http://www.springbreakhq.com.