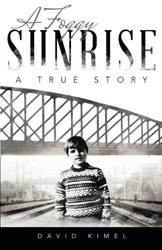 It's only when liberty is taken from people that they must run somewhere else for a better life.
TORONTO, Canada (PRWEB) December 20, 2014
WWII affected all of Europe, but some sides of this tragedy are rarely remembered. In his new book "A Foggy Sunrise", author David Kimel reveals the drastic changes that the war brought to his home country of Romania, leading to his decision to leave their home, family and country to immigrate to Canada.
Spanning the decade from 1937 to 1947, "A Foggy Sunrise" begins before the war when Kimel was just a child. It reveals a moment in time of his family and the entire country struggled to cope with the rising tide of war, anti-Semitism, famine and a corrupt Communist regime.
"I was really there as a child," said Kimel. "WWII had an effect on the world that we still feel to this day. I want people to understand what it was like in a country like Romania, a place caught between German and Russian influence that people don't often talk about."
Many in North America had never been taught much about the impact of WWII throughout Europe before the popular Italian movie "Life is Beautiful". Kimel hopes that "A Foggy Sunrise" can offer a similar experience for readers, showing how far-reaching WWII and the Holocaust were, and shine a spotlight on the transition of a democratic country to a communist dictatorship.
"One thing I want all readers to take away from my story is that life can be filled with hardship, danger and brutality, but human kindness, good will and faith will remain and shine through it all," Kimel said. "It's only when liberty is taken from people that they must run somewhere else for a better life."
A Foggy Sunrise
By David Kimel
Available in softcover, hardcover, e-book
Available at Chapters, Indigo, Coles, and on Amazon, Barnes & Noble and Google Books
About the author
David Kimel is a design engineer with 18 years of experience in Romania, 2 in Israel and over 20 in Canada. He decided to write a book about his true experiences to connect his roots-broken children and grandchildren with their ancestors' life, culture and traditions.
**FOR IMMEDIATE RELEASE**
For review copies or interview requests, contact:
Craig Cainkar
(317) 602-7137
ccainkar(at)bohlsengroup(dot)com