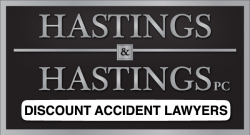 Phoenix, AZ (PRWEB) December 27, 2014
Hastings and Hastings, a law firm in Arizona with years of experience and a trusted reputation announces record demand in 2014 for all aspects of personal injury legal representation in Phoenix Arizona. Hastings and Hastings has seen steady increases in the demand for legal representation for everything from automobile accident injuries to motorcycle accident injuries and SUV related accident injuries. In addition, the firm has experienced considerable growth in demand for legal representation with regard to slip and fall accidents and wrongful death cases. With a large volume of statistics showing that there has been an increase in accidents that result in injuries across the country, Hastings and Hastings is always standing by and ready to assist those who have been injured because of someone else's poor judgment, errors or negligence.
The firm has saved clients a substantial amount of money over the last seven years thanks to its aggressive and simple discount fee structure. The firm is dedicated to providing clients with focused professional personal injury legal representation at discounted attorney's fees. In short, Hastings and Hastings makes it clear that it offers genuine discount fees without discounting service. The firm works on a contingency basis and offers a no fee promise to all clients. This simply implies that if a recovery is not achieved that the client will simply not be required to pay any attorney's fees. Hastings and Hastings also extends an offer to clients that if there is no recovery that all costs associated with a claim are immediately waived. This provides peace of mind for clients in knowing that they will not be financially burdened any more than they already are because of the original accident.
Hastings and Hastings has established an easy to understand and transparent attorney fee structure that is substantially discounted. In addition, the firm guarantees that fees will not change at any stage of the claim process. This includes cases that require extensive negotiation and cases that require full trial. Whatever the case may be, one thing is certain and that is that Hastings and Hastings is a genuine personal injury discount law firm that maintains the highest levels of integrity, professional fortitude and focus. The firm has 11 strategically located offices in the greater Phoenix metropolitan area and serves clients from anywhere across the state of Arizona. In addition, Hastings and Hastings offers free consultations for injury victims with a licensed personal injury attorney. This recent announcement with regard to record demand in 2014 for all aspects of personal injury legal representation in Phoenix Arizona is additional proof that Hastings and Hastings stands behind its promises of providing exceptionally focused and personalized personal injury legal representation for those who have been injured due to the negligence of another individual.
Hastings and Hastings is a leading provider of discount personal injury legal services located in and serving the greater Phoenix Metropolitan area. This respected legal firm specializes in assisting individuals that have been the victim of serious injuries that have resulted from accidents that were not fault of their own. Hastings and Hastings is a trusted group of attorneys that deliver personalized service and guidance for injury victims throughout Phoenix and all across the state of Arizona. Hastings and Hastings is known throughout legal circles as a dedicated team of professionals and a law firm that has been representing accident victims throughout Arizona for decades. Hastings and Hastings has consistently exceeds client's expectations with regard to representing a wide array of accident related injury victims at times when it matters the most and always doing so with discount attorney's Fees.