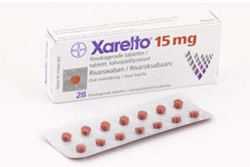 For more information on the legal options available to you or to file a Xarelto lawsuit, please contact Alonso Krangle LLP by filling out our online form or by calling us at 800-403-6191
New York NY (PRWEB) December 22, 2014
Xarelto Lawsuit News: Alonso Krangle LLP reports that a federal panel of judges has granted a request to centralize pending and subsequent Xarelto lawsuits in the U.S. District Court, Eastern District of Louisiana. The U.S. Judicial Panel On Multidistrict Litigation (JPML) issued an order on December 12 to transfer over 50 Xarelto cases–21 lawsuits and 30 potential tag-along actions–pending in 22 districts to the Louisiana court for consolidation under U.S. District Judge Eldon E. Fallon. The JPML was asked by plaintiffs in six pending Xarelto actions to consolidate all federally filed Xarelto lawsuits. According to the order, the JPML found that the pending Xarelto claims have common issues, such as the adequacy of the blood thinner's warning label about the risk of severe bleeding and other injuries, the results of certain clinical studies, and the alleged need for blood monitoring. Additionally, the judicial panel maintained the Xarelto complaints have common allegations including plaintiffs suffer significant bleeding or other injuries, the defendants did not warn about the blood thinner's potential to cause severe or fatal bleeding, and Xarelto does not have an antidote should severe bleeding occur in patients. (In re: Xarelto (Rivaroxaban) Products Liability Litigation, MDL 2592)
The JPML's order also addressed the concerns of defendants, Bayer AG, Xarelto's Germany-based manufacturer, and Xarelto's marketer, Janssen Pharmaceuticals Inc., a unit of Johnson & Johnson. The companies opposed creating a multidistrict litigation (MDL) and instead wanted an informal coordination of all Xarelto cases. The panel wrote that an informal handling of the cases was not practical because there are more than two dozen plaintiffs' law firms and discovery located in a foreign country. According to the order, the JPML was not persuaded by the defendants' arguments that MDL litigation will "generate the filing of voluminous claims without due diligence by plaintiffs' counsel." The JPML wrote that the court can properly address meritless claims.
(In re: Xarelto (Rivaroxaban) Products Liability Litigation, MDL 2592)
Xarelto (rivaroxaban) is an oral blood thinner medication used to reduce the risk of blood clots and strokes in patients with atrial fibrillation (irregular heart rhythms) and to treat blood clots in the leg and lungs. Xarelto, Pradaxa and Eliquis are considered to be new oral anticoagulants since they were approved in the past few years by the U.S. Food and Drug Administration (FDA) compared to warfarin, which the FDA approved 60 years ago. According to the FDA, warfarin's dosage must be adjusted to make sure the blood-thinning effect is in the right range. However, the federal agency maintains that patients taking the new anticoagulants do not need to have periodic blood test monitoring. Unlike the new blood thinners, warfarin has vitamin K as an antidote should serious bleeding occur in patients taking the medication. Pradaxa, Eliquis and Xarelto do not have reversal agents to counteract their anticoagulation effects, according to the FDA.
(fda.gov/Drugs/NewsEvents/ucm405148.htm, July 17, 2014)
Court records indicate that the Xarelto lawsuits maintain that the approval of the blood thinner in the United States was based on a clinical study published in the New England Journal of Medicine in September 2011. (In re: Xarelto (Rivaroxaban) Products Liability Litigation, MDL 2592) The double-blind trial, called ROCKET AF, involved 14,264 patients with atrial fibrillation who were at increased risk of stroke. The patients were assigned to take either a daily dose of 20 mg of Xarelto or a dose-adjusted warfarin blood thinner. According to the study, Xarelto was shown to be "noninferior" or just as effective as warfarin for preventing stroke or systemic embolism. However, bleeding from gastrointestinal sites occurred more frequently in patients taking Xarelto as did bleeding that required transfusion.
(nejm.org/doi/full/10.1056/NEJMoa1009638#t=article, September 8, 2011)
Reuters reported in June that the first lawsuits were filed this year in the United States against Bayer AG over Xarelto, which is one of the company's top-selling medicines. The Xarelto lawsuits in the newly created MDL allege that due to the defendants' aggressive marketing efforts, Xarelto generated approximately $582 million in global sales in its first full year of being on the market. According to the complaints, Xarelto reached "blockbuster" status in 2013, which, in the pharmaceutical industry, means a product cleared the $1 billion threshold and went on to reach approximately $2 billion that year. (In re: Xarelto (Rivaroxaban) Products Liability Litigation, MDL 2592)
[reuters.com/article/2014/06/14/us-bayer-suit-idUSKBN0EP0HW20140614, June 14, 2014]
About Alonso Krangle LLP And Filing A Xarelto Lawsuit
Andres Alonso and David Krangle, attorneys with almost 40 years of collective legal experience, have focused their law practice on the handling of significant personal injury cases, defective drug and medical device litigation, construction site accidents, nursing home abuse, medical malpractice, whistleblower actions and consumer fraud cases. A national law firm representing injured victims throughout the U.S., Alonso Krangle LLP is headquartered in Long Island, New York, with offices in New York City and New Jersey. Alonso Krangle LLP, is investigating potential Xarelto lawsuits. If you or someone you love suffered serious side effects, such as severe bleeding, internal bleeding, blood clots, stroke or heart attack from taking Xarelto, you may be eligible to file a Xarelto lawsuit against the manufacturer of the blood thinner. For more information on the legal options available to you or to file a Xarelto lawsuit, please contact Alonso Krangle LLP by filling out our online form or by calling us at 800-403-6191.
For more information about Alonso Krangle or to join the fight and be a part of our team, please contact us at 1-800-403-6191 or visit our website, http://www.FightForVictims.com.