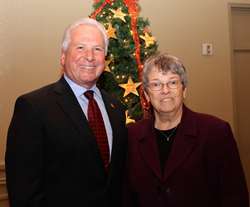 White Plains, NY (PRWEB) December 18, 2014
Hospice & Palliative Care of Westchester (HPCW) recently hosted its Annual "Tree of Life" Reception at the Hilton Westchester in Rye Brook, N.Y.
For the past few of months, friends, families and community members were invited to purchase a gold star to be hung on the "Tree of Life" in memory or in honor of a loved one. Guests and sponsors of the reception also participated in the event by placing the personalized gold stars on the "Tree of Life." The evening featured holiday entertainment provided by Manhattanville College's elite pop vocal group, The Quintessentials.
Grand sponsors of the event were Beecher Flooks Funeral Home, Inc., Red Oak Transportation and Dr. Patricia Trainor & Charles Trainor. Sponsors were AliGraphics; Amoruso & Amoruso, LLP; Co-Communications, Inc.; Cuddy & Feder LLP; The Hildegarde D.; Becher Foundation, Inc.; The Hilton Westchester; James P. O'Toole Consulting; Norman DiChiara Architects P.C.; O'Connor Davies, LLP; Ross Mailing Services, Inc.; and The Kensico Cemetery. All proceeds benefited the HPCW mission, which is to strive to provide extraordinary and dignified comfort, care and compassion to individuals and families facing a serious or life-limiting illness.
Hospice & Palliative Care of Westchester is located at 311 North Street, Suite 204, White Plains, NY. For additional information, visit http://www.hospiceofwestchester.com or call 914-682-1484.