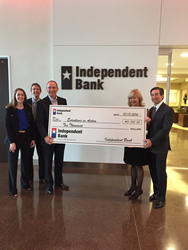 Addison, Texas (PRWEB) December 19, 2014
Executives In Action (EIA), which strengthens nonprofits by engaging executives to provide pro bono consulting services, today announced a partnership with Independent Bank, headquartered in McKinney, TX. Representatives from the two organizations were present for a check presentation today in McKinney, where Independent Bank gave EIA a check for $10,000. In addition, Independent Bank executives will participate in an EIA project in the coming year.
EIA partners senior level executives, in transition or retired, with nonprofits to provide highly sought after skill sets and counsel they would otherwise not be able to afford or access. EIA focuses on North Texas nonprofits working in the areas of children and family, culture and humanities, education, health and well-being, and social services.
"We are grateful for Independent Bank's support so that EIA can continue to grow our impact throughout North Texas. Specifically, our partnership will enable EIA to not only fund a project, but also for their executives to join forces with a nonprofit to help them address business management needs in the organization so it can more efficiently and effectively support its mission and expand its reach," explained John Meyers, director of corporate development for Executives In Action.
"Independent Bank and Executives In Action share a commitment to the North Texas community," explained James Tippit, CRA Officer. "Partnering with EIA not only enables us to give back to so many nonprofit organizations in our area, but it also provides us an opportunity to support transitioning executives who have been a vital part of our business community. This dual-impact in transforming North Texas is what drew us to the partnership. We are excited to experience first-hand the work they are doing."
Since its inception, EIA has partnered with more than 270 nonprofits, marshaling the expertise of nearly 700 executives to generate an investment of more than $5.2 million of human resource capital in the North Texas community. Visit http://www.executivesinaction.org/ for further details.
About Executives In Action (EIA):
Executives In Action (EIA) is a DFW nonprofit focused on supporting Dallas-area charitable organizations. EIA provides service grants to nonprofits looking to enhance their efficiency, management and impact. These grants are fulfilled by senior executive volunteers who use their years of business experience on the project. For more information visit executivesinaction.org.
About Independent Bank:
Independent Bank Group, through its wholly owned subsidiary, Independent Bank, provides a wide range of relationship-driven commercial banking products and services tailored to meet the needs of businesses, professionals and individuals. Independent Bank Group operates 41 banking offices in three market regions located in the Dallas/Fort Worth, Austin and Houston, Texas areas.
###