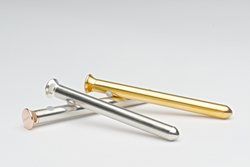 I wanted to create a gorgeous object that functions equally well as a vibrator and as jewelry, with no compromises.
San Francisco, CA (PRWEB) December 18, 2014
With 3721 backers for a total of $275,420 collected on Tilt.com, the functional and elegant Vesper vibrator necklace becomes the most successful (having shipped to all its backers) sex toy project on a crowdfunded pre-order platform.
As CoolHunting raved, "Wearable tech has never been more pleasurable—or sexy—than the products developed by CRAVE. Their high-quality adult objects stand apart from the majority of the market for their innovative and sleek design...Their newest addition Vesper similarly doesn't disappoint in its sophistication: it's a slim vibrator that also functions as a necklace....Whether you are brave enough to wear it to work, to the bar or even for a plane ride, this conversation-starting necklace is one investment that keeps giving—almost any time, any place."
"From the early days of the crowdfunding movement we have been big believers in the power of the model to help bring new products and companies to life. As Crave enters a new chapter, we are excited to be a part of what we think is the next phase – customers having a persistent and powerful voice in the ongoing development of new products. Vesper was our first effort with what we hope will be a long and exciting journey of engaging with customers further through the development process."
"We really see this as the future of crowdfunding," Tilt CEO James Beshara adds. "With the launch of our Tilt/Open Pre-Order tools, we enable innovative brands like CRAVE to engage more closely with customers."
CRAVE designer and co-founder Ti Chang is thrilled with the success of the pre-order campaign. "I wanted to create a gorgeous object that functions equally well as a vibrator and as jewelry, with no compromises. People should be able to own their pleasure in private and in public." With the pre-order campaign concluded, the stylish Vesper is now for sale directly to customers at lovecrave.com.
###
CRAVE is committed to creating pleasure products and jewelry that provide a luxurious experience at every level, from exquisite designs to expertly-selected materials, enjoyable shopping experience, superior technology features, and eco-friendly production. Other CRAVE products include the Duet, Duet Lux, Solo, Wink, Droplet necklace, and sensual accessories including leather cuffs and tassels. To see the full line of CRAVE products, visit http://www.lovecrave.com.
About CRAVE
CRAVE makes luxury sensual products that look as good as they feel. Founded in 2011 by seasoned entrepreneur and Stanford product designer Michael Topolovac, along with Ti Chang, an award-winning industrial designer from the Royal College of Art, CRAVE is among the few companies in its industry with female-led product design. CRAVE is leading the shift toward stigma-free sentiment around pleasure products, and has received $2.4 M in funding from more than 60 angel investors. CRAVE's beautiful, innovative, high-quality designs are designed in San Francisco and globally sourced. For more information, visit lovecrave.com.
Media Contact
+1 415 226-0416
media(at)lovecrave(dot)com