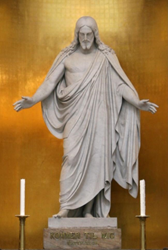 This awe-inspiring Christus depicts Jesus Christ just as the scriptures describe Him, beckoning to us with open arms in a most pleasant manner, as if saying: "Come unto me."
Provo, Utah (PRWEB) December 18, 2014
The original Christus statue by Sculptor Albert Bertel Thorvaldsen was made of plaster in 1823 and was used to create the 11-foot marble version in 1839 that stands today in the Church of Our Lady in Copenhagen, Denmark. The statue was crafted in Copenhagen as a monument for Pope Pius VII.
Bringing the awe-inspiring story into modern day is art studio Big Statues, located in Provo, Utah. This marvelous work of inspired art has now been created in the exact detail of the original. The professional team of artists chosen to carry out the immense projects all have an emotional connection to the statue and it's story.
"The statue is a stunning reminder of Christ and his importance," said Matt Glenn, President of Big Statues. "We know that the original is viewed by over 20 million people every year. We want to give others that same chance." The studio's plan to carry out such a large project is to take things in small, detailed steps. Big Statues hopes to introduce to others the beautiful spirit of the statue by creating a limited number of 100 miniature versions The miniature statues contain all of the detail of the original with an element of convenience.
This awe-inspiring Christus depicts Jesus Christ just as the scriptures describe Him, beckoning to us with open arms in a most pleasant manner, as if saying: "Come unto me."